Reactive Oxygen Species (ROS): Beneficial Companions of Plants ' Developmental Processes
ABSTRACT
---
Reactive oxygen species (ROS) are generated inevitably in the redox reactions of plants, including respiration and photosynthesis. In earlier studies, ROS were considered as toxic by-products of aerobic pathways of the metabolism. But in recent years, concept about ROS has changed because they also participate in developmental processes of plants by acting as signaling molecules. In plants, ROS regulate many developmental processes such as cell proliferation and differentiation, programmed cell death, seed germination, gravitropism, root hair growth and pollen tube development, senescence, etc. Despite much progress, a comprehensive update of advances in the understanding of the mechanisms evoked by ROS that mediate in cell proliferation and development are fragmentry and the matter of ROS perception and the signaling cascade remains open. Therefore, keeping in view the above facts, an attempt has been made in this article to summarize the recent findings regarding updates made in the regulatory action of ROS at various plant developmental stages, which are still not well-known.
No MeSH data available.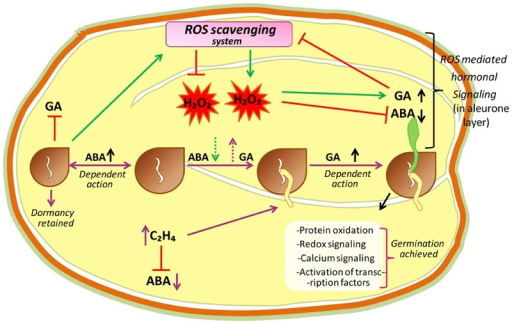 © Copyright Policy
License
getmorefigures.php?uid=PMC5037240&req=5
Mentions: Seed dormancy and seed germination mechanisms are essential processes in plant development, and are believed to be a part of a complex regulatory network (Figure 3). In this network, ROS are considered to be key signaling actors as reported in A. thaliana (Liu et al., 2010; Leymarie et al., 2012), barley (Ishibashi et al., 2010; Bahin et al., 2011), cress (Müller et al., 2009), wheat (Ishibashi et al., 2008), and sunflower (Oracz et al., 2007). Seed germination starts with water uptake, along with initiation of cell division, and ends with radicle protrusion (Holdsworth et al., 2008; Bewley et al., 2013). In dry seeds, due to highly reduced enzyme activities, ROS are probably originated from lipid peroxidation like non-enzymatic reactions that occur even at very low moisture contents (Vertucci and Farrant, 1995; McDonald, 1999). However, in hydrated seeds (that occurs following imbibition) ROS may generate from all metabolically active compartments like chloroplasts (by election transfer in photosystems), glyoxysomes (by lipid catabolism), mitochondria (via respiratory activity), peroxisomes (by purine catabolism), and plasma membranes (by NADPH oxidase; Bailly, 2004). In hydrated seeds, the continuation of respiration (in mitochondria) in imbibed seeds can lead to electron leakage because the electrons of mitochondrial electron-transfer chain (mETC) have sufficient free energy to directly reduce the O2, and this can be considered as unavoidable source of increased ROS production in mitochondria (Rhoads et al., 2006; El-Maarouf-Bouteau and Bailly, 2008). Due to this reason, in hydrated seeds, the mitochondrial activity is considered as major source of ROS (such as H2O2) production during germination (Noctor et al., 2007). Moreover, in hydrated seeds, ROS targets may be close or far from their production sites as the free water allows ROS (or their longer-living or movable forms like H2O2) to move and reach their targets farther from their production sites while, in dry seeds the ROS targets must be close to their production sites (Bailly et al., 2008). It has been reported that H2O2 is produced in the seeds of Zinnia elegans (Ogawa and Iwabuchi, 2001), maize (Hite et al., 1999), wheat (Caliskan and Cuming, 1998) and soybean (Puntarulo et al., 1988) during the early imbibitional period, and cellular responses to H2O2, which is the most labile ROS messenger, mostly rely on the involvement of redox-active proteins (Foyer and Noctor, 2013), stimulation of redox-sensitive TFs that orchestrate downstream cascades (Petrov and Van Breusegem, 2012), oxidation of specific peptides (Moller and Sweetlove, 2010), and the activation of MAPKs (Barba-Espín et al., 2011). ROS produced during imbibition in different sub-cellular compartments, largely affect the expressions of various genes (Neill et al., 2002). The sub-cellular ROS interact with specific target molecules (particular for increased ROS concentration), which there translate that information by altering the gene expression (Laloi et al., 2004). Oxidation of certain components that keep on to activate TFs of the signaling pathway, or the direct modification of redox-sensitive TFs by ROS, may led to the alteration of transcriptional activity (Laloi et al., 2004).