Reactive Oxygen Species (ROS): Beneficial Companions of Plants ' Developmental Processes
ABSTRACT
---
Reactive oxygen species (ROS) are generated inevitably in the redox reactions of plants, including respiration and photosynthesis. In earlier studies, ROS were considered as toxic by-products of aerobic pathways of the metabolism. But in recent years, concept about ROS has changed because they also participate in developmental processes of plants by acting as signaling molecules. In plants, ROS regulate many developmental processes such as cell proliferation and differentiation, programmed cell death, seed germination, gravitropism, root hair growth and pollen tube development, senescence, etc. Despite much progress, a comprehensive update of advances in the understanding of the mechanisms evoked by ROS that mediate in cell proliferation and development are fragmentry and the matter of ROS perception and the signaling cascade remains open. Therefore, keeping in view the above facts, an attempt has been made in this article to summarize the recent findings regarding updates made in the regulatory action of ROS at various plant developmental stages, which are still not well-known.
No MeSH data available.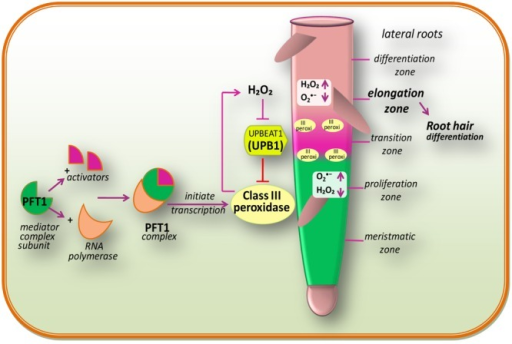 © Copyright Policy
License
getmorefigures.php?uid=PMC5037240&req=5
Mentions: In multicellular organisms, growth mainly depends on the maintenance of an appropriate equilibrium between cell division and differentiation (Figure 2). In the case of animals, interruption of this equilibrium between cell division and differentiation can lead to tumoral growth and disease, while in plants; it can lead to premature cessation of organogenesis, or as a consequence of abnormal growth (Zhang et al., 2008). The initial stage of differentiation is marked by the transition from cellular proliferation to elongation, which is regulated by ROS homeostasis (Tsukagoshi et al., 2010). According to Dunand et al. (2007), and H2O2 are two main ROS, which are differentially distributed within the root tissues of model plant Arabidopsis. principally accumulates in expanding meristem cells, while H2O2 accumulates in the elongation zone (Wells et al., 2010) and an overlap of both types of ROS is observed within the "transition zone" (Figure 2). The transition between root cell proliferation and differentiation is mainly controlled by the delicate equilibrium between and H2O2, which in turn is regulated by a TF: UPBEAT1 (UPB1; Tsukagoshi et al., 2010). The UPB1, a member of the basic/helix loop-helix (bHLH) TF family, shows an increased expression in the root transition zone (Tsukagoshi et al., 2010). Tsukagoshi et al. (2010) have reported that plants over-expressing UPB1 had shorter roots due to a decrease in both meristem size and mature cells, while plants lacking UPB1 (upb1 mutant) had longer roots with increased meristem size and longer root cells. Furthermore, when Tsukagoshi et al. (2010) investigated the mechanism of action of UPB1 regulated genes, a set of peroxidases (Prxs) was seen to be directly repressed by UPB1. Further investigation pointed out that production was reduced in lines over-expressing UPB1 but increased in the elongation zone in the upb1 mutant, while H2O2 was found to be increased in the plants over-expressing UPB1 and reduced in the elongation zone of upb1 mutant. These findings suggested that the position of the transition zone is determined by the ramp formed by in the meristem to maintain the cellular proliferation, and H2O2 in the elongation zone, for differentiation. This indicates that UPB1, feedback of which is regulated by H2O2, plays a key role in maintaining the balance of and H2O2 via its control on Prxs expression.