Reactive Oxygen Species (ROS): Beneficial Companions of Plants ' Developmental Processes
ABSTRACT
---
Reactive oxygen species (ROS) are generated inevitably in the redox reactions of plants, including respiration and photosynthesis. In earlier studies, ROS were considered as toxic by-products of aerobic pathways of the metabolism. But in recent years, concept about ROS has changed because they also participate in developmental processes of plants by acting as signaling molecules. In plants, ROS regulate many developmental processes such as cell proliferation and differentiation, programmed cell death, seed germination, gravitropism, root hair growth and pollen tube development, senescence, etc. Despite much progress, a comprehensive update of advances in the understanding of the mechanisms evoked by ROS that mediate in cell proliferation and development are fragmentry and the matter of ROS perception and the signaling cascade remains open. Therefore, keeping in view the above facts, an attempt has been made in this article to summarize the recent findings regarding updates made in the regulatory action of ROS at various plant developmental stages, which are still not well-known.
No MeSH data available.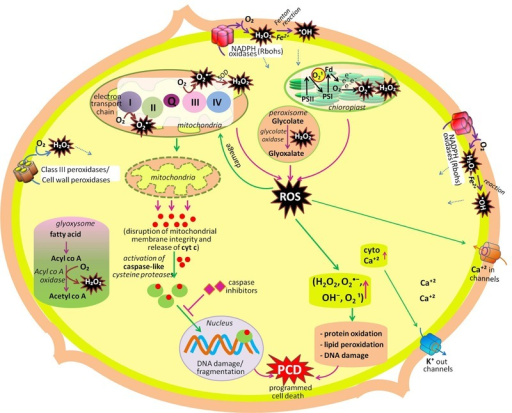 © Copyright Policy
License
getmorefigures.php?uid=PMC5037240&req=5
Mentions: Life on the earth began under a reducing atmosphere. About ∼2.7 billion years ago, the introduction of O2-evolving photosynthetic organisms led to an accumulation of O2 that changed the reducing environment into an oxidized one. Since then, reactive oxygen species (ROS) have been unavoidable companions of aerobic life (Gill and Tuteja, 2010; Bhattacharjee, 2012). Electron transport systems (ETCs) generally produce ROS by virtue of O2 being a powerful electron acceptor. ROS such as superoxide radical (), hydroxyl radical (•OH), hydrogen peroxide (H2O2) and singlet oxygen (1O2) are either the product of oxidation–reduction (redox) reactions, or activated derivatives of O2, continually generated in chloroplasts, mitochondria, peroxisomes, and glyoxysomes (Sharma et al., 2012; Suzuki et al., 2012; Sandalio et al., 2013; Singh et al., 2015a,b), and also in the cytosol, apoplast, nucleus, and, endomembrane systems (Gechev et al., 2006; Ashtamker et al., 2007). These ROS are highly reactive and toxic, causing oxidative damage to macromolecules such as lipids, proteins, and nucleic acids (Karuppanapandian et al., 2011; Kapoor et al., 2015; Prasad et al., 2015). In photosynthetic tissues (leaves), chloroplasts are the major sources of ROS generation in plants (Asada, 2006; Dietz, 2016; Takagi et al., 2016; Figure 1; Table 1). Photosynthetic electron transfer chains of chloroplast produce high amounts of (through leakage of electrons from the acceptor side of photosystem II to O2, from Fe–S centers of photosystem I and reduced ferredoxin (Mehler reaction; Pospisil, 2012), while in non-photosynthetic tissues of plants (i.e., roots, meristems, or seeds) mitochondria are the biggest sources of ROS generation (Navrot et al., 2007; Kalogeris et al., 2014; Huang et al., 2016). In mitochondria, the key sources of ROS production are NADH dehydrogenase complexes I and III, and the ubiquinone pool (Marchi et al., 2012; Steffens, 2014) where radicals are generated from the complexes as a by product of energy metabolism by the reduction state of ubiquinone pool (Rhoads et al., 2006; Drose and Brandt, 2012). Other sources of ROS, mainly in non-photosynthetic tissues are NADPH oxidases, cell wall peroxidases, peroxisomes, and glyoxysomes. In glyoxysomes and peroxisomes, H2O2 is produced during fatty acid oxidation (by Acyl CoA oxidase), and photorespiration (by glycolate oxidase), respectively (del Rio et al., 2006; Gilroy et al., 2016; Kerchev et al., 2016; Rodríguez-Serrano et al., 2016). In chloroplasts, during impairment of CO2 fixation, an increased activity of ribulose-1,5-bisphosphate carboxylase/oxygenase leads to the formation of glycolate, which moves to peroxisomes and leads to the formation of H2O2, via its oxidation in the presence of glycolate oxidase enzyme (Figure 1; Table 1). Cell wall-associated extracellular peroxidases and plasma membrane-bound NADPH oxidases (e.g., Nox, Rbohs or respiratory burst oxidase homologs) are the key enzymes that produce H2O2 and (usually rapidly dismutated to H2O2) in the apoplast (Bindschedler et al., 2006; Sagi and Fluhr, 2006; Choi et al., 2007). In Arabidopsis, 10 genes encoding respiratory burst oxidase homologs (Rbohs, i.e., RbohA-RbohJ) have been reported (Bedard and Krause, 2007; Marino et al., 2012). Notably, in presence of redox-active metals such as Fe2+ and Cu+, H2O2 will give rise to highly reactive •OH (the most toxic oxidant in the ROS family) or via the Fenton or Haber–Weiss reactions, respectively (Jomova et al., 2010).