The qacC Gene Has Recently Spread between Rolling Circle Plasmids of Staphylococcus , Indicative of a Novel Gene Transfer Mechanism
ABSTRACT
---
Resistance of Staphylococcus species to quaternary ammonium compounds, frequently used as disinfectants and biocides, can be attributed to qac genes. Most qac gene products belong to the Small Multidrug Resistant (SMR) protein family, and are often encoded by rolling-circle (RC) replicating plasmids. Four classes of SMR-type qac gene families have been described in Staphylococcus species: qacC, qacG, qacJ, and qacH. Within their class, these genes are highly conserved, but qacC genes are extremely conserved, although they are found in variable plasmid backgrounds. The lower degree of sequence identity of these plasmids compared to the strict nucleotide conservation of their qacC means that this gene has recently spread. In the absence of insertion sequences or other genetic elements explaining the mobility, we sought for an explanation of mobilization by sequence comparison. Publically available sequences of qac genes, their flanking genes and the replication gene that is invariably present in RC-plasmids were compared to reconstruct the evolutionary history of these plasmids and to explain the recent spread of qacC. Here we propose a new model that explains how qacC is mobilized and transferred to acceptor RC-plasmids without assistance of other genes, by means of its location in between the Double Strand replication Origin (DSO) and the Single-Strand replication Origin (SSO). The proposed mobilization model of this DSO-qacC-SSO element represents a novel mechanism of gene mobilization in RC-plasmids, which has also been employed by other genes, such as lnuA (conferring lincomycin resistance). The proposed gene mobility has aided to the wide spread of clinically relevant resistance genes in Staphylococcus populations.
No MeSH data available.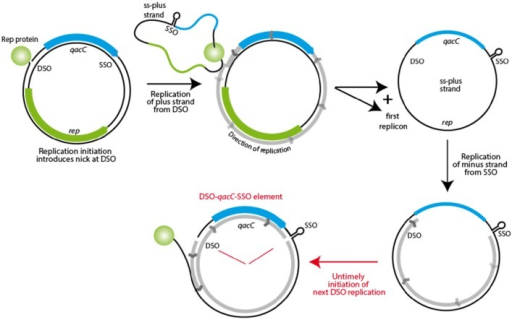 © Copyright Policy
License
getmorefigures.php?uid=PMC5037232&req=5
Mentions: The fact that Qac is positioned in between SSO and DSO on RC-plasmids may explain how it is mobilized. During rolling circle replication, the plus strand is formed from the nick site, with the replication fork moving all the way round toward the SSO, to continue beyond the original nick site. As Khan describes: "Once the replication fork reaches the termination site, i.e., the regenerated DSO, DNA synthesis proceeds to approximately 10 nucleotides beyond the nick site. (…) The SSO [is] generally located immediately upstream of the DSO such that [it is] not exposed in a single-strand form until the leading strand has been almost fully synthesized" (Khan, 2005). Initiation of replication is tightly regulated, and how re-initiation is inhibited until the cycle is completed is well understood for some RC-plasmid families (e.g., pT181, reviewed in Ruiz-Masó et al., 2015), but for the pC194 family, to which Qac RC-plasmids belong, the regulation is not clear (Ruiz-Masó et al., 2015). The presence of a gene (qacC) in between SSO and DSO is an anomaly for these plasmids, as the sso is usually located close to the dso (Ruiz-Masó et al., 2015). During replication, which starts from DSO (with qacC being replicated last) an intermediate stage exists when the single-strand positive strand is covalently bound to Rep at the nick site, to be recircularized when Rep is released. This circular ssDNA is completed to dsDNA starting at the SSO hairpin, again with qacC being replicated last, as shown in Figure 7. If, however, a new nick is introduced in DSO before the minus strand replication round is completely finished, a nicked DNA fragment spanning from the nick site to the SSO, with qacC in between, would be formed. This could be incorporated in an acceptor plasmid by homologous recombination, making use of host recombination proteins. Untimely initiation of replication would normally be prevented when SSO and DSO are close together, but it is quite possible that the presence of a qac gene in between these elements upsets the timing of events.