In Absence of the Cellular Prion Protein, Alterations in Copper Metabolism and Copper-Dependent Oxidase Activity Affect Iron Distribution
ABSTRACT
---
Essential elements as copper and iron modulate a wide range of physiological functions. Their metabolism is strictly regulated by cellular pathways, since dysregulation of metal homeostasis is responsible for many detrimental effects. Neurodegenerative disorders such as Alzheimer's disease, Parkinson's disease and prion diseases are characterized by alterations of metal ions. These neurodegenerative maladies involve proteins that bind metals and mediate their metabolism through not well-defined mechanisms. Prion protein, for instance, interacts with divalent cations via multiple metal-binding sites and it modulates several metal-dependent physiological functions, such as S-nitrosylation of NMDA receptors. In this work we focused on the effect of prion protein absence on copper and iron metabolism during development and adulthood. In particular, we investigated copper and iron functional values in serum and several organs such as liver, spleen, total brain and isolated hippocampus. Our results show that iron content is diminished in prion protein- mouse serum, while it accumulates in liver and spleen. Our data suggest that these alterations can be due to impairments in copper-dependent cerulopalsmin activity which is known to affect iron mobilization. In prion protein- mouse total brain and hippocampus, metal ion content shows a fluctuating trend, suggesting the presence of homeostatic compensatory mechanisms. However, copper and iron functional values are likely altered also in these two organs, as indicated by the modulation of metal-binding protein expression levels. Altogether, these results reveal that the absence of the cellular prion protein impairs copper metabolism and copper-dependent oxidase activity, with ensuing alteration of iron mobilization from cellular storage compartments.
No MeSH data available.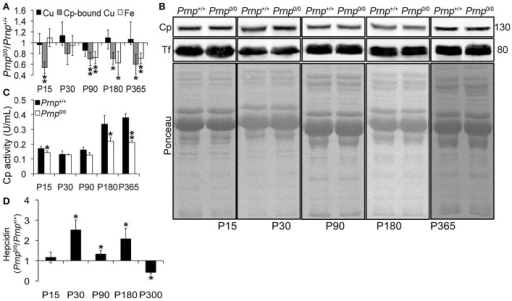 © Copyright Policy
License
getmorefigures.php?uid=PMC5037227&req=5
Mentions: To study the role of PrPC in metal metabolism, we first measured copper and iron content in wild-type and PrPC- mouse blood serum. We performed this analysis at different ages, from P15 to 1-year-old, and expressed results as the ratio between Prnp0/0 and Prnp+/+ ion concentration values. Results expressed in μg/mL are reported in Figures S1A–C. We found that the total amount of serum copper is not affected by PrPC absence, as shown in Figure 1A. In physiological conditions, most of serum copper (~95%) is bound and transported by Cp (Harris and Gitlin, 1996). The remaining fraction is bound to macroglobulins and albumin, and represents the so-called copper exchangeable pool (Favier and Ruffieux, 1988; Linder and Hazegh-Azam, 1996). By dyalizing serum against the divalent cation chelator EDTA, we determined copper bound to Cp. Indeed, EDTA affinity constant for copper is enough for chelating free and exchangeable copper ions in serum (e.g., copper ions bound to albumin or small molecules) but it is unable to complex Cp-bound copper (Favier and Ruffieux, 1988). At all ages, Cp-bound copper is significantly decreased in PrPC- mouse serum compared to wild-type animals (Figure 1A), suggesting a larger copper exchangeable pool fraction in PrPC- mice. The reduced amount of Cp-bound copper in PrPC- mouse serum seems not due to differences in Cp expression level, as shown in Figure 1B, and suggests an impairment in Cp ferroxidase activity. Measuring serum Cp activity, we confirmed that it is lessened in Prnp0/0 mice compared to wild-type (Figure 1C). To verify the reduced Cp activity in PrPC- mice, Cp activity was determined in the presence of EDTA as divalent cations chelator (e.g., iron, copper), cuprizone as selective copper chelator unable to sequester copper in the ceruloplasmin catalytic site, azide as specific inhibitor of type 3 copper center responsible for ceruloplasmin activity, and by heating samples for denaturating ceruloplasmin so preventing its activity (Figure S2). While a slightly reduction in oxidase activity of both wild type and PrP- mice in the presence of EDTA was observed, oxidase activity was strongly inhibited by adding the specific inhibitor azide and by heating serum, confirming the role of Cp in mediating oxidase activity. No alterations in oxidase activity were observed adding CZ. Since Cp ferroxidase activity mediates Fe2+ oxidation to Fe3+ for incorportation into transferrin (Tf), which is the main iron transporter, and iron mobilization from tissues (Osaki et al., 1966, 1971), we measured iron content in PrPC- and wild-type mouse sera. Starting from P90, serum iron concentration was reduced in Prnp0/0 mice compared to wild-type (Figure 1A). However, no differences in serum Tf levels were observed (Figure 1B).