The Autonomic Nervous System Regulates the Heart Rate through cAMP-PKA Dependent and Independent Coupled-Clock Pacemaker Cell Mechanisms
ABSTRACT
---
Sinoatrial nodal cells (SANCs) generate spontaneous action potentials (APs) that control the cardiac rate. The brain modulates SANC automaticity, via the autonomic nervous system, by stimulating membrane receptors that activate (adrenergic) or inactivate (cholinergic) adenylyl cyclase (AC). However, these opposing afferents are not simply additive. We showed that activation of adrenergic signaling increases AC-cAMP/PKA signaling, which mediates the increase in the SANC AP firing rate (i.e., positive chronotropic modulation). However, there is a limited understanding of the underlying internal pacemaker mechanisms involved in the crosstalk between cholinergic receptors and the decrease in the SANC AP firing rate (i.e., negative chronotropic modulation). We hypothesize that changes in AC-cAMP/PKA activity are crucial for mediating either decrease or increase in the AP firing rate and that the change in rate is due to both internal and membrane mechanisms. In cultured adult rabbit pacemaker cells infected with an adenovirus expressing the FRET sensor AKAR3, PKA activity and AP firing rate were tightly linked in response to either adrenergic receptor stimulation (by isoproterenol, ISO) or cholinergic stimulation (by carbachol, CCh). To identify the main molecular targets that mediate between PKA signaling and pacemaker function, we developed a mechanistic computational model. The model includes a description of autonomic-nervous receptors, post- translation signaling cascades, membrane molecules, and internal pacemaker mechanisms. Yielding results similar to those of the experiments, the model simulations faithfully reproduce the changes in AP firing rate in response to CCh or ISO or a combination of both (i.e., accentuated antagonism). Eliminating AC-cAMP-PKA signaling abolished the core effect of autonomic receptor stimulation on the AP firing rate. Specifically, disabling the phospholamban modulation of the SERCA activity resulted in a significantly reduced effect of CCh and a failure to increase the AP firing rate under ISO stimulation. Directly activating internal pacemaker mechanisms led to a similar extent of changes in the AP firing rate with respect to brain receptor stimulation. Thus, Ca2+ and cAMP/PKA-dependent phosphorylation limits the rate and magnitude of chronotropic changes in the spontaneous AP firing rate.
No MeSH data available.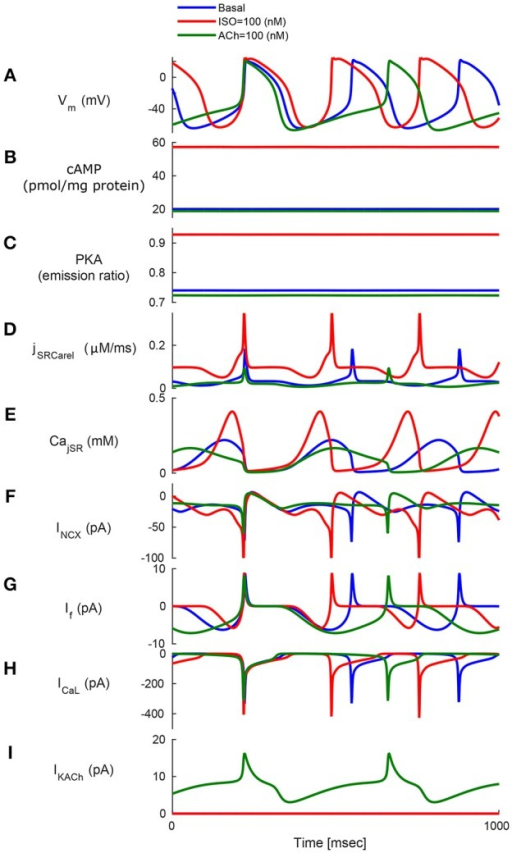 © Copyright Policy
License
getmorefigures.php?uid=PMC5037226&req=5
Mentions: To test whether AC-cAMP-PKA signaling crosstalk autonomic activity to SANC function, we performed numerical simulations under basal conditions, and under sympathetic or parasympathetic stimulation, and we quantified AC-cAMP-PKA signaling, membrane voltage, main membrane currents, and SR Ca2+ fluxes. Figure 4 shows the model simulation under basal conditions (i.e., without adrenergic or cholinergic stimulation, in blue), under adrenergic stimulation (in red), or under cholinergic stimulation (in green). The action potential firing rate increases under adrenergic stimulation and decreases under cholinergic stimulation (Figure 4A). Sympathetic stimulation by ISO leads to increased PKA and cAMP levels (Figures 4B,C), which results in modulated Ca2+ cycling within the cell, and in particular the amount of Ca2+ that is ejected via the ryanodine (RyR) channels (Figures 4D,E), which in turn stimulates the INCX (Figure 4F). A parallel increase in cytoplasmic Ca2+ further activates AC-cAMP-PKA signaling via calmodulin activated AC (see Figure 1). Additionally, cAMP signaling causes a voltage shift in the If activation curve, which leads to an increased contribution of If to early diastolic depolarization (Figure 4G). The L-type channel current, ICaL, is activated by the increase in PKA activity level under ISO (Figure 4H). Change in coupled-clock mechanisms lead to faster initiation of early DD and thus a higher AP firing rate (Figure 4A). In the case of parasympathetic stimulation of the ChR receptors, the PKA, and cAMP levels were lowered (Figures 4B,C). Ca2+ that is ejected via the RyR channels is lowered (Figure 4D), and as a consequence the activation of INCX is lowered (Figure 4F). ICaL is inactivated by the decrease in PKA. In addition, the muscarinic current, IKACh, is activated and contributes to the early DD together with If and INCX (Figure 4I). The changes in INCX, IKACh, and If result in a slower initiation of early DD and thus a lower AP firing rate. In the basal state, the AP firing rate was 183 bpm, which falls in the physiological range for fresh SANCs (Lyashkov et al., 2007). In the case of [ISO] = 100 nM, the PKA activity level increased by 26% and the cAMP level by 186% with respect to the basal level. In response to ChR (100 nM), the PKA activity level decreased by 2% and the cAMP level by 6%. The resulting AP firing rate was 223 bpm for [ISO] = 100 nM (i.e., an increase of 22% with respect to the basal level) whereas the AP firing rate was 135 bpm for CCh = 100 nM (i.e., a reduction of 26% with respect to the basal level). Of note, IKACh was only present in the case of parasympathetic stimulation, as expected. When running the model for a large range of β-AR (0–100 nM) and ChR (0–100 nM), the AP firing rate-cAMP relationship is coherent with experimental data published in previous work (Yaniv et al., 2013d; see Figure 5).