Draft genome sequence and detailed analysis of Pantoea eucrina strain Russ and implication for opportunistic pathogenesis
ABSTRACT
---
The genus Pantoea is a predominant member of host-associated microbiome. We here report on the genomic analysis of Pantoea eucrina strain Russ that was isolated from a trashcan at Oklahoma State University, Stillwater, OK. The draft genome of Pantoea eucrina strain Russ consists of 3,939,877 bp of DNA with 3704 protein-coding genes and 134 RNA genes. This is the first report of a genome sequence of a member of Pantoea eucrina. Genomic analysis revealed metabolic versatility with genes involved in the metabolism and transport of all amino acids as well as glucose, fructose, mannose, xylose, arabinose and galactose, suggesting the organism is a versatile heterotroph. The genome also encodes an extensive secretory machinery including types I, II, III, IV, and Vb secretion systems, and several genes for pili production including the new usher/chaperone system (pfam 05,229). The implications of these systems for opportunistic pathogenesis are discussed.
No MeSH data available.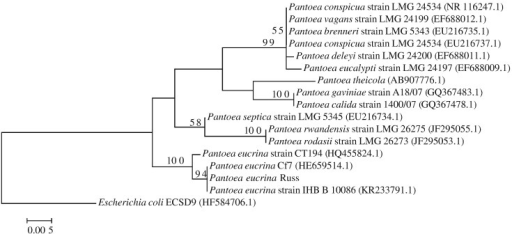 © Copyright Policy - CC BY-NC-ND
License
getmorefigures.php?uid=PMC5037212&req=5
Mentions: Within the genus Pantoea, 24 species are described with validly published names P. agglomerans type strain ATCC 27155T, P. allii type strain BD390T, P. ananatis type strain ATCC 33244T, P. anthophila type strain BD871T, P. brenneri type strain BD873T, P. calida type strain 1400/07T, P. citrea type strain BD875T, P. coffeiphila type strain DSM 28482T, P. conspicua type strain BD805T, P. cypripedii type strain ATCC 29267T, P. deleyi type strain BD767T, P. dispersa type strain ATCC 14589T, P. eucalypti type strain BD769T, P. eucrina type strain BD872T, P. gaviniae type strain A18/07T, P. intestinalis type strain DSM 28113T, P. punctata type strain BD876T, P. rodasii type strain BD943T, P. rwandensis type strain BD944T, P. septica type strain BD874T, P. stewartii type strain ATCC 8199T, P. terrea type strain BD877T, P. theicola type strain DSM 29212T, P. vagans type strain BD765T, and P. wallisii type strain BD946T. Strain Russ shares 96.6% with P. agglomerans, 96.3% P. allii, 97% P. ananatis, 97%P. anthophila, 96.6% P. brenneri, 96.4% P. calida, 94.9% P. citrea, 97.9% P. coffeiphila, 96.6% P. conspicua, 95.7% P. cypripedii, 96.8% P. deleyi, 98.5% P. dispersa, 96.4% P. eucalypti, 100% P. eucrina, 96.6% P. gaviniae, 95.5% P. intestinalis, 96.2% P. punctata, 97.5% P. rodasii, 97.5% P. rwandensis, 97.8% P. septica, 97.8% P. stewartii, 96.6% P. terrea, 96.3% P. theicola, 96.4% P. vagans, and 98.5% P. wallisii in the Pantoea genus. Phylogenetic analysis based on the 16S rRNA gene placed Pantoea eucrina strain Russ in the same node with the Pantoea eucrina strains IHB B 10086, C7, and CT194 (Table 2, and Fig. 2).