MicroRNA-Based Therapy in Animal Models of Selected Gastrointestinal Cancers
ABSTRACT
---
Gastrointestinal cancer accounts for the 20 most frequent cancer diseases worldwide and there is a constant urge to bring new therapeutics with new mechanism of action into the clinical practice. Quantity of in vitro and in vivo evidences indicate, that exogenous change in pathologically imbalanced microRNAs (miRNAs) is capable of transforming the cancer cell phenotype. This review analyzed preclinical miRNA-based therapy attempts in animal models of gastric, pancreatic, gallbladder, and colorectal cancer. From more than 400 original articles, 26 was found to assess the effect of miRNA mimics, precursors, expression vectors, or inhibitors administered locally or systemically being an approach with relatively high translational potential. We have focused on mapping available information on animal model used (animal strain, cell line, xenograft method), pharmacological aspects (oligonucleotide chemistry, delivery system, posology, route of administration) and toxicology assessments. We also summarize findings in the field pharmacokinetics and toxicity of miRNA-based therapy.
No MeSH data available.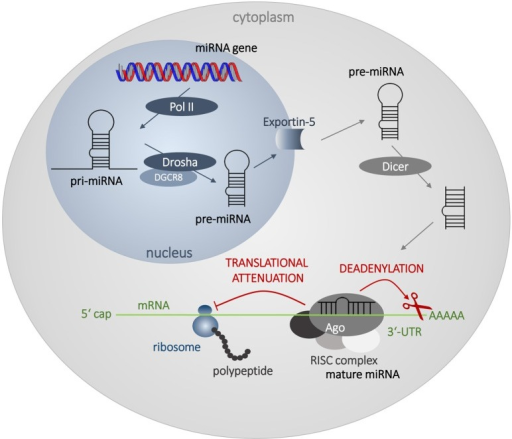 © Copyright Policy
License
getmorefigures.php?uid=PMC5037200&req=5
Mentions: MiRNAs bind mainly to the 3′-untranslated region of mRNA (3′-UTR), although there are several evidences that miRNAs could bind to the 5′-UTR, or to the coding sequence itself (Ott et al., 2011; Gu et al., 2014). In the case of imperfect matching, the duplex mRNA:miRNA is not translated, or it is translated incompletely and the polypeptide chain is subsequently degraded. Binding of miRNA to mRNA target also activates deadenylation of 3′-poly(A) end of mRNA through deadenylases, which is a first step of mRNA destabilization and later degradation by 3′- and 5′-exonucleases (Figure 2). Perfect matching leads to direct cleavage of the target mRNA. Imperfect matching is more common in animal cells, while perfect matching is typical for plant cells (Axtell et al., 2011). The binding specificity is ensured by the seed sequence of miRNA, which contains 6–8 nt and which is very often conservative through the species (Hogg and Harries, 2014). One miRNA can regulate many different genes, and more than 50% of all genes are suggested to be regulated by miRNAs. Thus, miRNA network affect most of cellular processes from the basic metabolic maintenance, through differentiation, cell division and proliferation, to the death (Calin and Croce, 2006; Esquela-Kerscher and Slack, 2006; Garzon et al., 2006; Zhang et al., 2013).