In vivo Differential Brain Clearance and Catabolism of Monomeric and Oligomeric Alzheimer's A β protein
ABSTRACT
---
Amyloid β (Aβ) is the major constituent of the brain deposits found in parenchymal plaques and cerebral blood vessels of patients with Alzheimer's disease (AD). Several lines of investigation support the notion that synaptic pathology, one of the strongest correlates to cognitive impairment, is related to the progressive accumulation of neurotoxic Aβ oligomers. Since the process of oligomerization/fibrillization is concentration-dependent, it is highly reliant on the homeostatic mechanisms that regulate the steady state levels of Aβ influencing the delicate balance between rate of synthesis, dynamics of aggregation, and clearance kinetics. Emerging new data suggest that reduced Aβ clearance, particularly in the aging brain, plays a critical role in the process of amyloid formation and AD pathogenesis. Using well-defined monomeric and low molecular mass oligomeric Aβ1-40 species stereotaxically injected into the brain of C57BL/6 wild-type mice in combination with biochemical and mass spectrometric analyses in CSF, our data clearly demonstrate that Aβ physiologic removal is extremely fast and involves local proteolytic degradation leading to the generation of heterogeneous C-terminally cleaved proteolytic products, while providing clear indication of the detrimental role of oligomerization for brain Aβ efflux. Immunofluorescence confocal microscopy studies provide insight into the cellular pathways involved in the brain removal and cellular uptake of Aβ. The findings indicate that clearance from brain interstitial fluid follows local and systemic paths and that in addition to the blood-brain barrier, local enzymatic degradation and the bulk flow transport through the choroid plexus into the CSF play significant roles. Our studies highlight the diverse factors influencing brain clearance and the participation of various routes of elimination opening up new research opportunities for the understanding of altered mechanisms triggering AD pathology and for the potential design of combined therapeutic strategies.
No MeSH data available.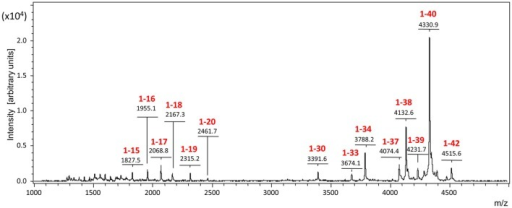 © Copyright Policy
License
getmorefigures.php?uid=PMC5037193&req=5
Mentions: Enzyme-mediated clearance has received considerable attention during the last decade, and many of the multiple enzymes constituting the proteolytic machinery of the brain have shown potential to participate in Aβ catabolism, among them neprylisin, insulin degrading- and endothelin converting-enzymes, plasmin as well as matrix metalloproteases (Selkoe, 2001; Morelli et al., 2002; Wang et al., 2006; Miners et al., 2008; Saido and Leissring, 2012; Hernandez-Guillamon et al., 2015). Reduced levels and/or decreased catalytic activity of these Aβ-degrading enzymes as a result of age, genetic factors, and specific disease conditions have been proposed to affect Aβ accumulation, an issue well-documented in murine models in which gene deletion of different proteases translate into increased levels of Aβ deposition (Selkoe, 2001; Vardy et al., 2005; Wang et al., 2006). Evidence of a genetic association of these proteases with AD has only been reported for a few enzymes albeit no consensus exists to the moment with regard to the importance or reproducibility of these associations in the general AD population (De Strooper, 2010). Nevertheless, in spite of this elusive information, the relevance of these enzymatic processes for brain clearance is supported in part by the current studies which demonstrate the preferential elimination of truncated C-terminal species to the CSF as well as by previous reports highlighting the higher solubility and non-toxic characteristics of the resulting truncated species (Hernandez-Guillamon et al., 2015), features that point out to a beneficial role of Aβ enzymatic processing for AD pathogenesis. The heterogeneous CSF Aβ profile generated by enzymatic catabolism of injected Aβ1-40 correlates well with the heterogeneity of Aβ species present in brain tissue and CSF biological samples. As illustrated in Figure 6 for human CSF in normal individuals, Aβ heterogeneity extends far beyond the classic Aβ1-40/Aβ1-42 dichotomy and encompasses numerous Aβ truncated forms, primarily cleaved at the C-terminus in CSF, and both at the C- and N-terminal ends in brain specimens (Portelius et al., 2006; Tomidokoro et al., 2010).