Initial characterization of a Syap1 knock-out mouse and distribution of Syap1 in mouse brain and cultured motoneurons
ABSTRACT
---
Synapse-associated protein 1 (Syap1/BSTA) is the mammalian homologue of Sap47 (synapse-associated protein of 47 kDa) in Drosophila. Sap47 mutant larvae show reduced short-term synaptic plasticity and a defect in associative behavioral plasticity. In cultured adipocytes, Syap1 functions as part of a complex that phosphorylates protein kinase Bα/Akt1 (Akt1) at Ser473 and promotes differentiation. The role of Syap1 in the vertebrate nervous system is unknown. Here, we generated a Syap1 knock-out mouse and show that lack of Syap1 is compatible with viability and fertility. Adult knock-out mice show no overt defects in brain morphology. In wild-type brain, Syap1 is found widely distributed in synaptic neuropil, notably in regions rich in glutamatergic synapses, but also in perinuclear structures associated with the Golgi apparatus of specific groups of neuronal cell bodies. In cultured motoneurons, Syap1 is located in axons and growth cones and is enriched in a perinuclear region partially overlapping with Golgi markers. We studied in detail the influence of Syap1 knockdown and knockout on structure and development of these cells. Importantly, Syap1 knockout does not affect motoneuron survival or axon growth. Unexpectedly, neither knockdown nor knockout of Syap1 in cultured motoneurons is associated with reduced Ser473 or Thr308 phosphorylation of Akt. Our findings demonstrate a widespread expression of Syap1 in the mouse central nervous system with regionally specific distribution patterns as illustrated in particular for olfactory bulb, hippocampus, and cerebellum.
Electronic supplementary material: The online version of this article (doi:10.1007/s00418-016-1457-0) contains supplementary material, which is available to authorized users.
No MeSH data available.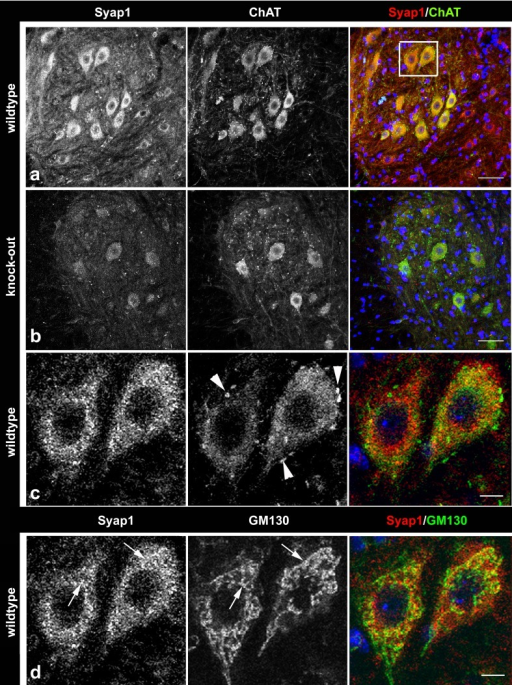 © Copyright Policy - OpenAccess
License
getmorefigures.php?uid=PMC5037158&req=5
Mentions: In the cerebellum, pronounced Syap1 staining is observed in the perinuclear cytoplasm of Purkinje cells (Fig. 7a, c, e, asterisks), particularly concentrated close to the emerging dendritic tree, again associated with the Golgi complex identified by GM130 co-labeling (Fig. 7c′). In addition, Syap1 immunoreactive puncta are distributed throughout the Purkinje cell dendrites (arrowheads in Fig. 7e) and in the molecular layer neuropil between the larger dendrites where numerous glutamatergic synapses are formed by parallel and climbing fibers. Co-staining for vGlut1 reveals partial overlap of the immunoreaction signals (Fig. 7a, c, e, compares with knockout in b, d, f). In the granular layer, medium levels of Syap1 immunoreactivity are observed, again partially overlapping with vGlut1 immunoreactivity identifying the large mossy fiber boutons of cerebellar glomeruli, but with signals also in non-vGlut1-reactive puncta (Fig. 7c, gray square enlarged in Fig. S5c). In the spinal cord, some overlap of Syap1-specific staining with choline acetyl transferase (ChAT) immunoreactivity in motoneuron somata is seen (Fig. 8a, c compares with knockout in b), but cholinergic synaptic boutons (arrowheads in c) contain little or no Syap1. Again, conspicuous association of the Syap1 signal with GM130 immunoreactivity in motoneuron cell bodies is obvious (arrows in Fig. 8d). These latter findings induced us to investigate the distribution and possible functional aspects of Syap1 in cultured motoneurons. However, the cholinergic synapses at neuromuscular junctions and surrounding muscle tissue display only low levels of Syap1-specific immunofluorescence (Fig. 9).Fig. 7