Guanylin and uroguanylin are produced by mouse intestinal epithelial cells of columnar and secretory lineage
ABSTRACT
---
Guanylin (GN) and uroguanylin (UGN), through activation of guanylyl cyclase C (GCC), serve to control intestinal fluid homeostasis. Both peptides are produced in the intestinal epithelium, but their cellular origin has not been fully charted. Using quantitative PCR and an improved in situ hybridization technique (RNAscope), we have assessed the expression of GN (Guca2a), UGN (Guca2b), and GCC (Gucy2c) in mouse intestine. In the crypts of Lieberkühn, expression of Guca2a and Guca2b was restricted to cells of secretory lineage, at the crypt's base, and to a region above, previously identified as a common origin of cellular differentiation. In this compartment, comparatively uniform levels of Guca2a and Guca2b expression were observed throughout the length of the gut. In contrast, Guca2a and Guca2b expression in the villus–surface region was more variable, and reflected the distinct, but overlapping expression pattern observed previously. Accordingly, in jejunum and ileum, Guca2a and Guca2b were abundantly expressed by enterocytes, whereas in colon only Guca2a transcript was found in the surface region. In duodenum, only low levels of Guca2b transcript were observed in columnar cells, and Guca2a expression was restricted entirely to cells of the secretory lineage. Gucy2c was shown to be expressed relatively uniformly along the rostrocaudal and crypt–villus axes and was also found in the duodenal glands. Our study reveals novel aspects of the cellular localization of the GCC signaling axis that, apart from its role in the regulation of fluid balance, link it to pH regulation, cell cycle control, and host defense.
Electronic supplementary material: The online version of this article (doi:10.1007/s00418-016-1453-4) contains supplementary material, which is available to authorized users.
No MeSH data available.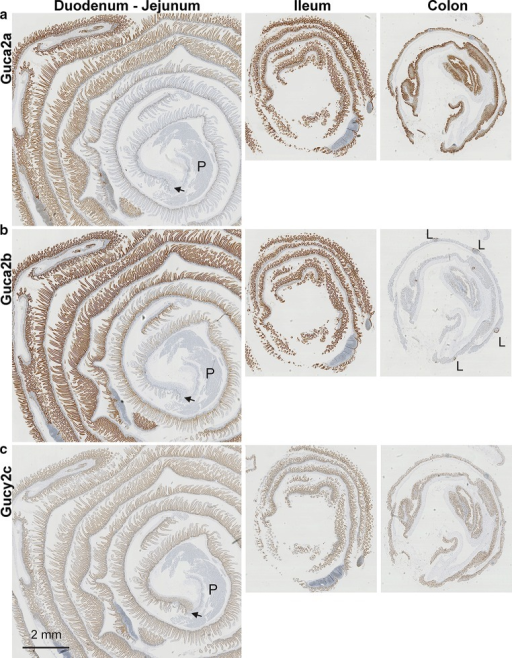 © Copyright Policy - OpenAccess
License
getmorefigures.php?uid=PMC5037145&req=5
Mentions: The RNAscope technique was used to visualize Guca2a, Guca2b, and Gucy2c transcripts in longitudinal sections of mouse intestine. This methodology employs up to 20 pairs of oligonucleotide probes per transcript, of which the paired probes need to hybridize in close proximity in order for signal amplification to occur. As a consequence, this technique provides a strongly improved signal-to-noise ratio compared with conventional in situ hybridization techniques (Wang et al. 2012a). The distribution pattern that emerged for these transcripts closely matched the expression profile assessed by qPCR analysis, i.e., the gradual increase of Guca2a and Guca2b expression from duodenum to the distal small intestine, the high expression of Guca2a, but low expression of Guca2b, in colon, and the comparatively low expression of Gucy2c (Fig. 2). This agreement strongly suggests specific hybridization of the probes. In addition, probe hybridization was restricted to intestinal epithelial cells, i.e., absent from underlying connective and muscle tissue, consistent with the discrete epithelial expression pattern of these genes. Our data also corroborate the previously observed high levels of focal Guca2b expression in regions of the colonic epithelium that border on lymphoid tissue (Fig. 2b colon section, Fig. 4j) (Whitaker et al. 1997). Specificity of the Guca2a probes was further corroborated by RNAscope performed on intestinal tissue of Guca2a mice, in which only sparse punctuate staining was found in the nuclei (indicating weak hybridization with DNA) and the cytoplasmic region (indicating weak hybridization with truncated Guca2a transcripts; Fig. S1).Fig. 2