A Novel Class of Plant Type III Polyketide Synthase Involved in Orsellinic Acid Biosynthesis from Rhododendron dauricum
ABSTRACT
---
Rhododendron dauricum L. produces daurichromenic acid, the anti-HIV meroterpenoid consisting of sesquiterpene and orsellinic acid (OSA) moieties. To characterize the enzyme responsible for OSA biosynthesis, a cDNA encoding a novel polyketide synthase (PKS), orcinol synthase (ORS), was cloned from young leaves of R. dauricum. The primary structure of ORS shared relatively low identities to those of PKSs from other plants, and the active site of ORS had a unique amino acid composition. The bacterially expressed, recombinant ORS accepted acetyl-CoA as the preferable starter substrate, and produced orcinol as the major reaction product, along with four minor products including OSA. The ORS identified in this study is the first plant PKS that generates acetate-derived aromatic tetraketides, such as orcinol and OSA. Interestingly, OSA production was clearly enhanced in the presence of Cannabis sativa olivetolic acid cyclase, suggesting that the ORS is involved in OSA biosynthesis together with an unidentified cyclase in R. dauricum.
No MeSH data available.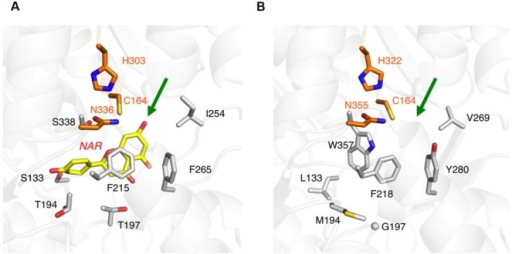 © Copyright Policy
License
getmorefigures.php?uid=PMC5037138&req=5
Mentions: However, the amino acid substitutions in the ORS active site apparently reduced the cavity volume (Figure 5B), as compared to that of M. sativa CHS2 (Figure 5A). In particular, the change of Ser338 to Trp, the novel substitution in plant type III PKSs, drastically reduces the cavity volume of ORS to prevent the entry of large starter substrates, such as p-coumaroyl-CoA (Figure 5B). In addition to the S338W substitution, the small to large F265Y, S133L, and T194M changes also reduced the active site cavity volume of ORS. In contrast, Thr197 is exceptionally changed to the smallest amino acid, Gly. It has been demonstrated that the T197G substitution opens a novel tunnel at the bottom of the active site, allowing it to accept long chain polyketide intermediates, as reported for the octaketide synthase from Aloe arborescens (Abe et al., 2005). However, judging from the ORS model, the large side chain of Met194 protrudes toward the G197 position to partially occlude the space created by the T197G substitution (Figure 5B). Taken together, the CASTP program estimated the cavity volume of the ORS model to be 465 Å3 for each monomer, which is much smaller than that of M. sativa CHS2 (1019 Å3) that produces naringenin chalcone from p-coumaroyl-CoA and three molecules of malonyl-CoA (Ferrer et al., 1999), and slightly larger than that of G. hybrida 2-pyrone synthase (298 Å3) that synthesizes triacetic acid lactone from acetyl-CoA and two molecules of malonyl-CoA (Jez et al., 2000).