Misaligned and Polarity-Reversed Faces Determine Face-specific Capacity Limits
ABSTRACT
---
Previous research using flanker paradigms suggests that peripheral distracter faces are automatically processed when participants have to classify a single central familiar target face. These distracter interference effects disappear when the central task contains additional anonymous (non-target) faces that load the search for the face target, but not when the central task contains additional non-face stimuli, suggesting there are face-specific capacity limits in visual processing. Here we tested whether manipulating the format of non-target faces in the search task affected face-specific capacity limits. Experiment 1 replicated earlier findings that a distracter face is processed even in high load conditions when participants looked for a target name of a famous person among additional names (non-targets) in a central search array. Two further experiments show that when targets and non-targets were faces (instead of names), however, distracter interference was eliminated under high load—adding non-target faces to the search array exhausted processing capacity for peripheral faces. The novel finding was that replacing non-target faces with images that consisted of two horizontally misaligned face-parts reduced distracter processing. Similar results were found when the polarity of a non-target face image was reversed. These results indicate that face-specific capacity limits are not determined by the configural properties of face processing, but by face parts.
No MeSH data available.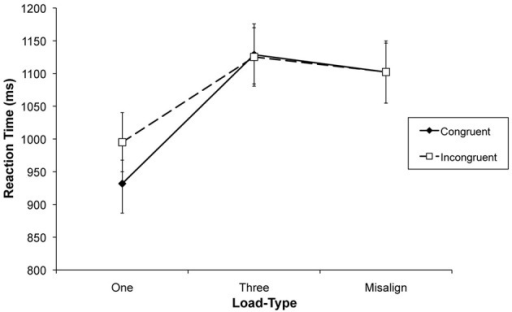 © Copyright Policy
License
getmorefigures.php?uid=PMC5037134&req=5
Mentions: Trials with RTs shorter than 150 ms (0.3% of the trials) and incorrect responses were excluded from the analyses of RTs. Figure 4 displays the mean correct RTs as a function of the experimental factors. A repeated measures ANOVA was conducted with the independent variables of congruency (congruent and incongruent) and load-type (low load, high load, and misaligned). The assumption of sphericity for the factor load-type could not be upheld, therefore, we report Greenhouse-Geisser corrected results. There was a main effect of congruency, with congruent trials being responded to faster than incongruent ones, F(1, 19) = 7.37, p = 0.014, partial η2 = 0.280. There was also a main effect of load-type, F(1.53, 29.05) = 72.87, p < 0.001, partial η2 = 0.793. Planned comparisons showed that RTs in the misaligned trials were slower than in the low load condition, F(1, 19) = 60.84, p < 0.001, partial η2 = 0.762, and the RTs in the high load conditions were slower than in the misaligned condition, F(1, 19) = 5.32, p = 0.033, η2 = 0.219.