Coupling Bacterioplankton Populations and Environment to Community Function in Coastal Temperate Waters
ABSTRACT
---
Bacterioplankton play a key role in marine waters facilitating processes important for carbon cycling. However, the influence of specific bacterial populations and environmental conditions on bacterioplankton community performance remains unclear. The aim of the present study was to identify drivers of bacterioplankton community functions, taking into account the variability in community composition and environmental conditions over seasons, in two contrasting coastal systems. A Least Absolute Shrinkage and Selection Operator (LASSO) analysis of the biological and chemical data obtained from surface waters over a full year indicated that specific bacterial populations were linked to measured functions. Namely, Synechococcus (Cyanobacteria) was strongly correlated with protease activity. Both function and community composition showed seasonal variation. However, the pattern of substrate utilization capacity could not be directly linked to the community dynamics. The overall importance of dissolved organic matter (DOM) parameters in the LASSO models indicate that bacterioplankton respond to the present substrate landscape, with a particular importance of nitrogenous DOM. The identification of common drivers of bacterioplankton community functions in two different systems indicates that the drivers may be of broader relevance in coastal temperate waters.
No MeSH data available.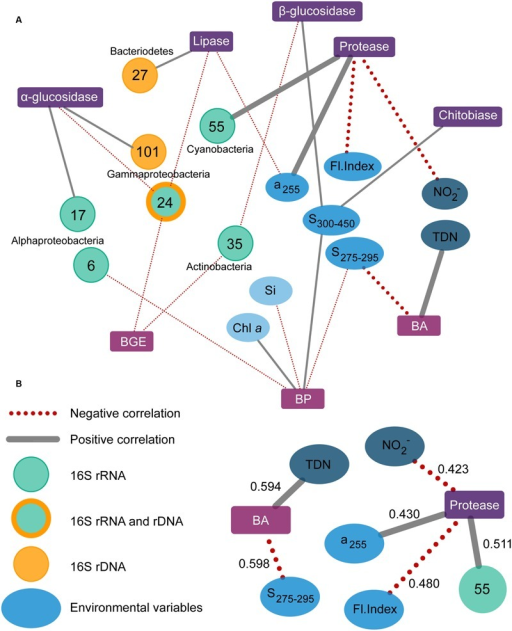 © Copyright Policy
License
getmorefigures.php?uid=PMC5037133&req=5
Mentions: The LASSO analyses were used to identify and evaluate links between bacterial community functions, total and active OTUs, and environmental parameters. The community functions, for which the analyses produced variables, are depicted in Figure 7A, and grouped according to function type, i.e., extracellular enzymes and bacterial growth, with links to bacterial populations (OTUs) or environmental parameters. The LASSO model outputs identified specific OTUs from the major taxonomic groups of Gamma- and Alphaproteobacteria, Bacteroidetes, Actinobacteria, and Cyanobacteria (see Table 1). The most important environmental variables identified by the LASSO models were all related to aspects of DOM and nitrogen availability, and to a lesser extent phytoplankton, inorganic nutrients, and temperature. Variables were sorted by their R2-value, using 0.4 as a cut-off for defining strong correlations. The full list of analyzed community functions is provided in Supplementary Table S1 and the output in Supplementary Table S2 reporting r-, R2-, and RMSPE-values. The patterns of potential substrate utilization suggested a seasonal component, as the months correlated with these patterns. Overall, the analyses suggested that specific bacterial populations, specific environmental conditions, and the season were potentially important for the function of the bacterial community.