Classification and substrate head-group specificity of membrane fatty acid desaturases
ABSTRACT
---
Membrane fatty acid desaturases are a diverse superfamily of enzymes that catalyze the introduction of double bonds into fatty acids. They are essential in a range of metabolic processes, such as the production of omega-3 fatty acids. However, our structure–function understanding of this superfamily is still developing and their range of activities and substrate specificities are broad, and often overlapping, which has made their systematic characterization challenging. A central issue with characterizing these proteins has been the lack of a structural model, which has been overcome with the recent publication of the crystal structures of two mammalian fatty acid desaturases. In this work, we have used sequence similarity networks to investigate the similarity among over 5000 related membrane fatty acid desaturase sequences, leading to a detailed classification of the superfamily, families and subfamilies with regard to their function and substrate head-group specificity. This work will facilitate rapid prediction of the function and specificity of new and existing sequences, as well as forming a basis for future efforts to manipulate the substrate specificity of these proteins for biotechnology applications.
No MeSH data available.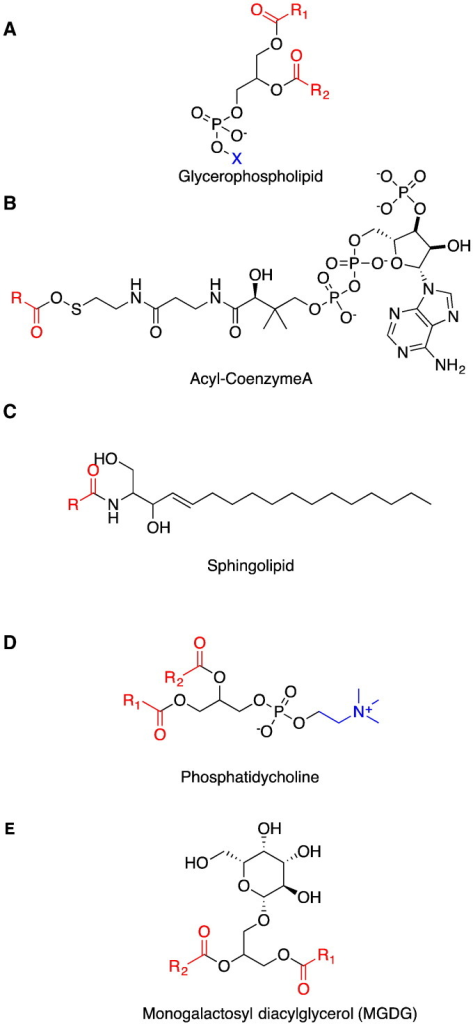 © Copyright Policy - CC BY
License
getmorefigures.php?uid=PMC5037126&req=5
Mentions: In contrast to soluble fatty acid desaturases (FADs), which are acyl–acyl carrier protein (acyl-ACP) specific [1], [2], membrane FADs are a diverse family of proteins that display a range of lipid substrate preferences including acyl-CoAs, sphingolipids (SP), phospholipids (PL) and galactolipids (GL) [3], [4]. The acyl chains of these substrates can, in general, be quite similar, but the "head-groups" of these lipids differ and contribute to the different physiological roles (Fig. 1). For example, acyl-ACPs are important intermediates for a number of different metabolic pathways, including lipid biosynthesis [5], whereas PL and GL are not only important structural lipids, but also play essential roles in different cellular signalling pathways [6]. Monogalactosyl diacylglycerol (MGDG) is a type of non-phosphorous structural glycerolipid that is abundant in the cellular membranes of photosynthetic organisms [7], [8], [9]. Similarly, SP is also a class of structural lipids, although its roles in the regulation of cellular processes, such as apoptosis, cell migration and cold tolerance, makes this class of lipid particularly important [10], [11], [12], [13]. Acyl-CoA substrates are frequently acted upon by lipid-modifying enzymes such as desaturases, acyltransferases and elongases [14], [15], [16], [17], [18], [19]. Therefore, acyl-CoA substrates are especially important for the production of unusual lipids such as docosahexaenoic acid and eicosapentaenoic acid [14], [20].