Science in the UK − whereto now?
Undoubtedly there are many ways of presenting the available financial data, but a straightforward reading of the likely unbiased UNESCO Science report reveals that the ratio of UK gross domestic expenditure on research and development (GRED) to GDP declined from 1.75 in 2009–1.63 in 2013, at a time when the average ratio for all 28 EU countries rose from 1.94 to 2.02... The UK government's own figures show that whilst in 2014 it spent £11.0 billion on science, engineering and technology, a nominal increase of 0.4% compared with 2013, once inflation is taken into account this represented a 1.0% decrease... Furthermore, the contribution of the UK Research Councils, which amounted to 31% of all expenditure in this area, decreased by 3% in current prices compared with 2013... The public also understand that it is normal for EU researchers to move from one member state to another to further their career (59% agree, 11% disagree), but it is again noticeable that the UK public are less likely to agree with this requisite: only 46% agree, whereas 18% disagree)... Finally, 72% of Europeans believe, compared to 7% that do not, that it is important to create European research centres that allow researchers from all EU countries to collaborate at one physical location... Trust is precious and must be earned, and there have been several reasons why some people might be mistrustful of scientists... Such events must be handled in a transparent, candid and respectful manner if they are not to damage people's trust in science and scientists... The jury remain out on how all of this affects the public's trust: 58% of Europeans think that the increasing dependence on funding from industry means that scientists can no longer be trusted to tell the truth about controversial scientific and technological issues... Conversely, in the UK scientists are a trusted profession, with the two most recent Ipsos Mori veracity indices suggesting that 83% (2014) or 79% (2015) of the UK population trusts scientists to tell the truth... I strongly believe that one of the lessons of the Brexit debacle is that scientists must become far more proactive in their involvement with and influence of politics... We must accept that we need to engage in an active role with the general public and demonstrate the significance and benefits of our research, perhaps by joining political parties and shaping policies right from the start... There are many issues that must be tackled and we must not be afraid to discuss these openly and with the greatest possible transparency... These include the serious problems associated with inefficiency, lack of reproducibility and mistaken research priorities of biomedical research, ,, ,, , laboratory errors, and other issues highlighted in numerous publications, ,, ,, ,.
No MeSH data available.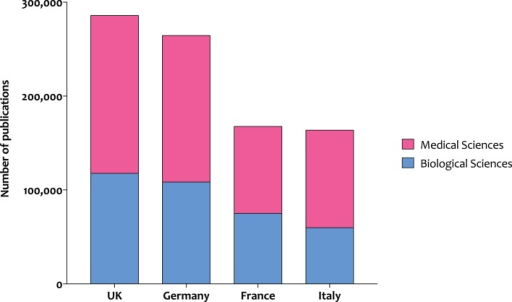 © Copyright Policy - CC BY-NC-ND
License
getmorefigures.php?uid=PMC5037121&req=5
Mentions: UK science is highly competitive and EU and UK researchers have become linked in an extensive collaborative network that has been of immense benefit to UK (and EU) science, with levels of inter-country collaborations within the EU (13%) similar to those of inter-state collaborations within the USA (16%) [1]. Together with scientists from other EU countries, British scientists comprise around 22% of researchers worldwide, way ahead of the USA (17%) [2]. European researchers are also productive as measured by publications and author around 34% of the world's research outputs, with the USA trailing at 23% [1]. Between 2005 and 2014, UK researcher output rose from 70,201 to 87,948, second only to Germany (73,573–91,631) and way ahead of next-placed France (52,476–65,086). Indeed, for publications in biological and medical sciences, British authors are the most prolific by far (Fig. 1). UK institutions have been awarded by far the most research grants by the European Research Council [3], which funds individual projects solely on the basis of their scientific excellence and so helps researchers bypass what is sometimes perceived as a less objective distribution of monies from national research councils. Between 2007 and 2015, the UK accounted for 639/3056 grants, with next-placed Germany obtaining 440. The UK has been similarly successful with the EU's Horizon 2020 programme, with nearly 12% of the applications received under the first 100 calls accounting for 15% of the available funding [4]. The Royal Society reckons from data released by the UK Office of National Statistics that between 2007 and 2013 the UK received a net amount of €2.9 billion in direct EU funding for research, development and innovation activities [5].