Impact of hepatitis B virus infection on hepatic metabolic signaling pathway
ABSTRACT
---
A growing body of epidemiologic research has demonstrated that metabolic derangement exists in patients with hepatitis B virus (HBV) infection, indicating that there are clinical associations between HBV infection and host metabolism. In order to understand the complex interplay between HBV and hepatic metabolism in greater depth, we systematically reviewed these alterations in different metabolic signaling pathways due to HBV infection. HBV infection interfered with most aspects of hepatic metabolic responses, including glucose, lipid, nucleic acid, bile acid and vitamin metabolism. Glucose and lipid metabolism is a particular focus due to the significant promotion of gluconeogenesis, glucose aerobic oxidation, the pentose phosphate pathway, fatty acid synthesis or oxidation, phospholipid and cholesterol biosynthesis affected by HBV. These altered metabolic pathways are involved in the pathological process of not only hepatitis B, but also metabolic disorders, increasing the occurrence of complications, such as hepatocellular carcinoma and liver steatosis. Thus, a clearer understanding of the hepatic metabolic pathways affected by HBV and its pathogenesis is necessary to develop more novel therapeutic strategies targeting viral eradication.
No MeSH data available.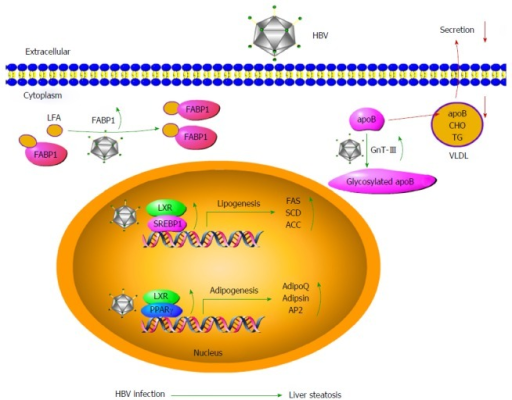 © Copyright Policy - open-access
License
getmorefigures.php?uid=PMC5037084&req=5
Mentions: Recently, accumulating evidence from experimental investigations has suggested that HBV infection is a potential trigger of liver steatosis. HBx can induce hepatic steatosis at all aspects, such as increasing fatty acid binding, promoting lipid synthesis and inhibiting secretion of apolipoprotein (Figure 1). Fatty acid binding protein 1 (FABP1), responsible for the uptake, metabolism and transport of long-chain fatty acids (LFA)[24], plays a key role in intracellular fatty acid utilization and transport[25]. Forced expression of HBx induced liver steatosis through up-regulation of FABP1, whereas gene silencing of FABP1 blocked lipid accumulation in both in vivo and in vitro models[26]. LXR, SREBP1 and PPARγ are master regulators in hepatic lipogenesis: LXR directly induces expression of SREBP1, which up-regulates lipogenic genes[27]; activation of LXR also stimulates adipocyte differentiation through induction of PPARγ expression[28]. Both are suggested to be of vital importance in hepatic lipid accumulation. Several studies have demonstrated that HBx increased the gene expression and transcriptional activity of LXR-mediated SREBP1 and PPARγ, thereby inducing the expression of hepatic lipogenic genes (fatty acid synthase, stearoyl-CoA desaturase, acetyl-CoA carboxylase) and adipogenic genes (adipsin, adiponectin, aP2/adipose fatty acid–binding protein), finally accompanied by the accumulation of lipid droplets[29-32]. Apolipoprotein B (apoB), required for the secretion and assembly of low-density lipoproteins (LDL) and very low-density lipoproteins (VLDL), is assembled into a secretion-competent particle with lipids[33-35]. It has been reported that HBx mediated aberrantly glycosylated apoB by elevating the expression of N-Acetylglucosaminyltransferase III (GnT-III) resulted in inhibition of apoB secretion as well as intracellular accumulation of cholesterol and triglyceride[36].