Fear of Falling Correlates with Subtle Neuromuscular Balance and Strength Deficits of Fragility Fracture Patients
ABSTRACT
---
Fragility fractures, or fractures occurring from a low-trauma event, are extremely prevalent among the elderly population worldwide and associated with significant mortality and morbidity. This study evaluated the relationship between FES-I Fear of Falling Survey results, self-reported activity restrictions via the SF-36 survey, and scores recorded by portable, inexpensive clinical assessment tools (CATs) during dynamic functional tasks. Low scores during these tasks may indicate functional deficits that put patients at risk for falls and subsequent fragility fractures. Forty-one subjects (20 fragility fracture patients, 21 controls without history of fragility fractures) over the age of 50 were recruited from three outpatient orthopaedic clinics. All subjects were administered a FES-I Fear of Falling Survey, a portion of an SF-36 survey, and tested using three different portable CATs: the Wii Balance Board, iPod Level Belt and Saehan Squeeze Hand Grip Dynamometer. There were several measured variables that showed a moderate correlation with Fear of Falling scores. Of note, correlations between FES-I scores and maximum hand grip strength for both the dominant hand (R= -0.302, p=0.069) and non-dominant hand (R= -0.309, p=0.059), as well as maximum anterior-posterior sway measured by the iPod Level Belt (R=0.320, p=0.056) were found to be marginally significant. In addition, the correlation between FES-I and average anterior-posterior sway was found to be significant (R=0.416, p=0.012). The Nintendo Wii and iPod Level Belt are relatively inexpensive, portable tools that can assess patients for subtle deficits during dynamic functional tasks. The results indicate that these tools can provide a more objective measure of a patient's limitations during daily activities such as walking by assigning them a numerical value and correlating this value to physical deficits that impact balance and coordination. In the future, CATs may also have a role in predicting outcomes and in individualizing care, therapy, and at-home preventive measures.
No MeSH data available.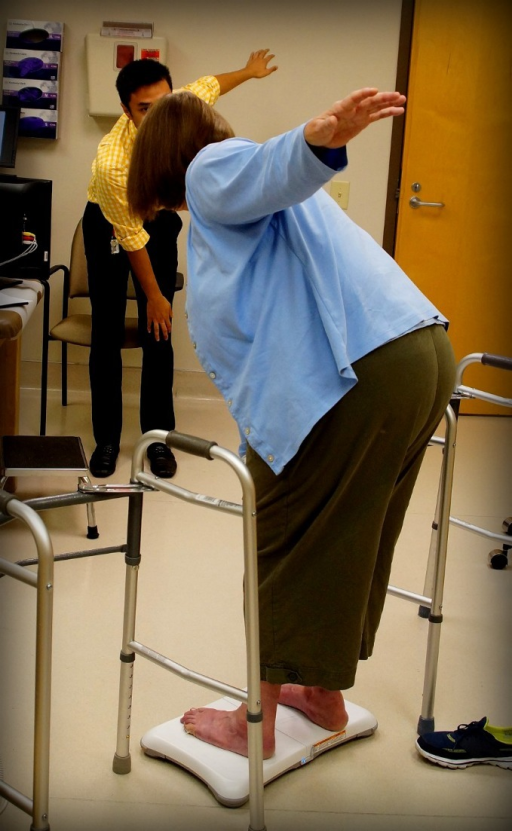 © Copyright Policy - open-access
License
getmorefigures.php?uid=PMC5036953&req=5
Mentions: Each subject filled out an FES-I Fear of Falling survey, a validated survey that evaluates fall risk based on self-reported "fear of falling" during daily activities2. The test is a reliable, repeatable measure of concern surrounding activities that cover a range of difficulties and circumstances[8]. Each subject then filled out a patient demographics questionnaire that also served to screen ineligible patients: those with movement or sensory disorders such as Parkinson's or peripheral neuropathy, those who were unable to walk 40 feet unassisted, and those that were less than two months out from a fragility fracture-related surgery. Included in the patient questionnaire was a section from the SF-36 Health Survey, which evaluates daily activity restrictions based on the subject's current state of health. This portion of the survey states, "The following questions are about activities you might do during a typical day. Does your health now limit you in these activities? If so, how much?" The subject is then asked to determine if they are limited during ten different activities, such as "bathing or dressing yourself" or "walking one block". Subjects have three options: "Yes, limited a lot," "Yes, limited a little," or "No, not limited at all." Point values from 1 (limited a lot) to 3 (not limited at all) are assigned to the different answers to calculate each subject's score out of a possible total of 30 points. This score is then divided by 10 (for the 10 different activities) to get an average activity score. Thus, subjects with higher scores are believed to have fewer activity restrictions on a daily basis than subjects with lower activity scores. The survey has been shown to be an accurate self-estimation of physical tasks[11]. Each subject was tested using the Nintendo Wii balance board, iPod Level Belt, and hand grip dynamometer. Each task was repeated three times, and the scores were averaged. Patients performed three trials of each test. Specific Nintendo Wii tests included Torso Twists, which evaluates double-leg stance postural sway during a medial-lateral sway task (Fig. 2), and a Single Leg Stand, which measures hip abduction strength, ankle stability, and postural sway. Both Wii Balance Board tasks were performed without shoes to eliminate additional variables caused by shoe type. During the Torso Twists task, subjects are asked to hold their arms and forearms parallel to the floor, with their feet hip distance apart. They were then instructed to twist 90 degrees in alternating directions from the waist and above. Subjects turned in each direction three times. For the Single Leg Stand, subjects were required to place their hands on their hips, but were allowed to balance with their lifted leg in whatever position was most comfortable, as we wanted these tests to be an accurate representation of functional everyday balance.