Prevalence and diversity of H9N2 avian influenza in chickens of Northern Vietnam, 2014
ABSTRACT
---
Despite their classification as low pathogenicity avian influenza viruses (LPAIV), A/H9N2 viruses cause significant losses in poultry in many countries throughout Asia, the Middle East and North Africa. To date, poultry surveillance in Vietnam has focused on detection of influenza H5 viruses, and there is limited understanding of influenza H9 epidemiology and transmission dynamics. We determined prevalence and diversity of influenza A viruses in chickens from live bird markets (LBM) of 7 northern Vietnamese provinces, using pooled oropharyngeal swabs collected from October to December 2014. Screening by real time RT-PCR revealed 1207/4900 (24.6%) of pooled swabs to be influenza A virus positive; overall prevalence estimates after accounting for pooling (5 swabs/pools) were 5.8% (CI 5.4–6.0). Subtyping was performed on 468 pooled swabs with M gene Ct < 26. No influenza H7 was detected; 422 (90.1%) were H9 positive; and 22 (4.7%) were H5 positive. There was no evidence was of interaction between H9 and H5 virus detection rates. We sequenced 17 whole genomes of A/H9N2, 2 of A/H5N6, and 11 partial genomes. All H9N2 viruses had internal genes that clustered with genotype 57 and were closely related to Chinese human isolates of A/H7N9 and A/H10N8. Using a nucleotide divergence cutoff of 98%, we identified 9 distinct H9 genotypes. Phylogenetic analysis suggested multiple introductions of H9 viruses to northern Vietnam rather than in-situ transmission. Further investigations of H9 prevalence and diversity in other regions of Vietnam are warranted to assess H9 endemicity elsewhere in the country.
No MeSH data available.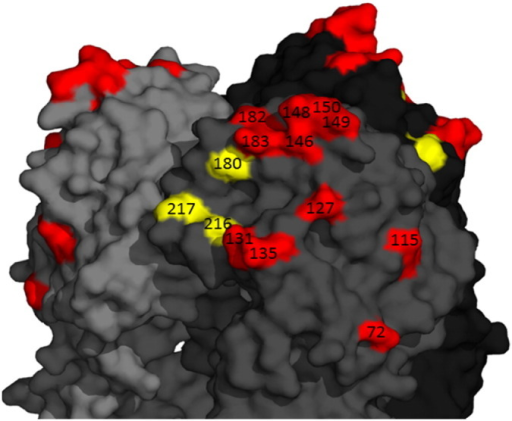 © Copyright Policy - CC BY
License
getmorefigures.php?uid=PMC5036934&req=5
Mentions: The 19 H9 sequences generated retained the classical BJ94/Y280-like 'low-pathogenic' dibasic RSSR cleavage motif that has previously shown to allow cleavage by epithelial proteases such as matriptase and is thought to facilitate systemic infections in poultry (Baron et al., 2013). The receptor binding site of all sequences had leucine at position 216 (226 in H3 numbering), a residue associated with increased binding to human-like α2,6 linked sialic acids in multiple subtypes including H9N2, and consequently associated with mammalian adaptation and transmission (Sorrell et al., 2009). This is a change from previously detected Vietnamese H9N2 viruses which tended to have a glutamine at this position which preferentially binds to the 'avian' α2.3 linked sialic acid (Jadhao et al., 2009). Position 217 (227, H3 numbering) has been implicated in both receptor binding and mammalian adaptation in a number of subtypes, however the significance of methionine at this position (as observed in the H9 Vietnamese sequences here) remains unknown (Sang et al., 2015, Stevens et al., 2006). Additionally position 180 (190 H3 numbering) is implicated in receptor binding specificity in the closely related H1 hemagglutinins (Matrosovich et al., 2001, Matrosovich et al., 2000) the Vietnamese viruses have either alanine or valine, which are very common in recent Chinese H9s, or threonine, which is more rarely found, at this position. The HA sequences also contained a number of previously described markers with the potential to confer mammalian transmission potential, as well as the chicken airborne transmission marker K363 (Rudneva et al., 2005; Kaverin et al., 2005; Sun et al., 2013, Zhong et al., 2014a, Zhong et al., 2014b) (Table S1). All viruses contained conserved N-linked glycosylation sequence (N-X-S/T, where X =/=P) at positions 11–13, 123–125, 280–282, 287–289 and 295–297, and more than half of the sequences had an additional glycosylation sequence at position 200–202 (Table S1). Finally, by analyzing known H9N2 antigenic residues from the literature (Kaverin et al., 2004, Okamatsu et al., 2008, Peacock et al., 2016, Ping et al., 2008, Wan et al., 2014, Zhu et al., 2015), we predict there are at least two antigenically variant sub-groups circulating in northern Vietnam: those antigenically similar to H7F-14-CB4-2 and those similar to HF7-LC4-26 which vary from each other at 11 antigenically important residues (Fig. 4).