Prevalence and diversity of H9N2 avian influenza in chickens of Northern Vietnam, 2014
ABSTRACT
---
Despite their classification as low pathogenicity avian influenza viruses (LPAIV), A/H9N2 viruses cause significant losses in poultry in many countries throughout Asia, the Middle East and North Africa. To date, poultry surveillance in Vietnam has focused on detection of influenza H5 viruses, and there is limited understanding of influenza H9 epidemiology and transmission dynamics. We determined prevalence and diversity of influenza A viruses in chickens from live bird markets (LBM) of 7 northern Vietnamese provinces, using pooled oropharyngeal swabs collected from October to December 2014. Screening by real time RT-PCR revealed 1207/4900 (24.6%) of pooled swabs to be influenza A virus positive; overall prevalence estimates after accounting for pooling (5 swabs/pools) were 5.8% (CI 5.4–6.0). Subtyping was performed on 468 pooled swabs with M gene Ct < 26. No influenza H7 was detected; 422 (90.1%) were H9 positive; and 22 (4.7%) were H5 positive. There was no evidence was of interaction between H9 and H5 virus detection rates. We sequenced 17 whole genomes of A/H9N2, 2 of A/H5N6, and 11 partial genomes. All H9N2 viruses had internal genes that clustered with genotype 57 and were closely related to Chinese human isolates of A/H7N9 and A/H10N8. Using a nucleotide divergence cutoff of 98%, we identified 9 distinct H9 genotypes. Phylogenetic analysis suggested multiple introductions of H9 viruses to northern Vietnam rather than in-situ transmission. Further investigations of H9 prevalence and diversity in other regions of Vietnam are warranted to assess H9 endemicity elsewhere in the country.
No MeSH data available.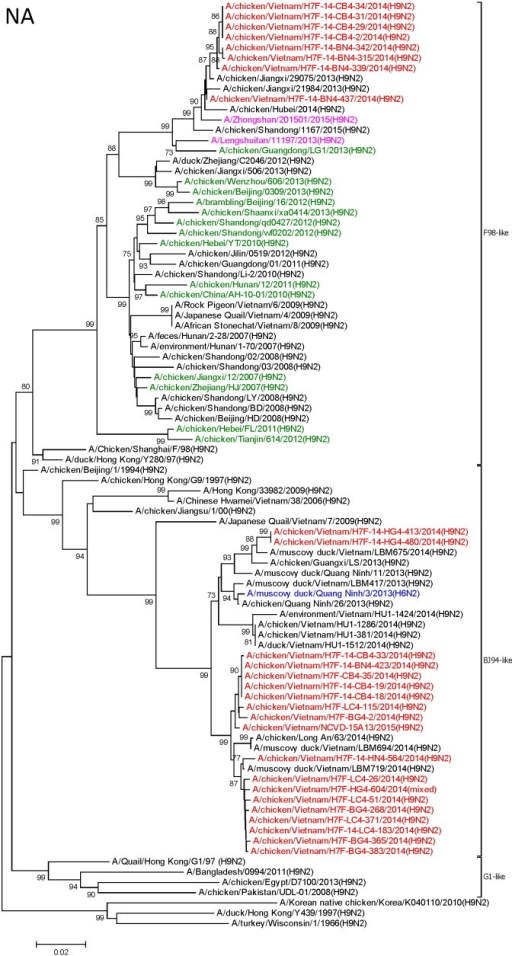 © Copyright Policy - CC BY
License
getmorefigures.php?uid=PMC5036934&req=5
Mentions: We utilized next generation sequencing using the Illumina Nextera XT Sample Preparation Kit and the MiSeq platform as previously described (Zaraket et al., 2015) using both direct sequencing of pooled surveillance swabs, as well as egg-grown virus isolates. Amplification enrichment for influenza genomes was performed on a total of 96 samples (19 egg isolates, 77 pooled surveillance swabs), from which 55 were selected for Nextera XT library preparations, and 50 were included in the run. Next generation sequencing identified 17 H9N2 complete genomes, 2 H5N6 complete genomes, 11 partial genomes. The HPAI H5 genomes detected from LBM will be presented within a separate publication and are only briefly discussed here. To determine relationships among the novel A/H9N2 sequences, we performed Blastn on each gene segment to identify closely related viruses within public datasets, and included a number of additional references. All H9 HA genes fell into the BJ94/Y280-like lineage, the predominant H9 lineage found in China. Segment 6 (NA) exhibited the most diversity with 15.7% nucleotide differences between strains, and fell into 2 distinct clusters (Fig. 2). In contrast, the other segments showed reduced diversity, with maximum pairwise nucleotide differences of 6.0%, 4.0%, 2.9%, 5.0%, 4.8%, 1.6% and 6.0% for segments 1–5, 7 and 8 respectively.