Distributed and Lumped Parameter Models for the Characterization of High Throughput Bioreactors
ABSTRACT
---
Next generation bioreactors are being developed to generate multiple human cell-based tissue analogs within the same fluidic system, to better recapitulate the complexity and interconnection of human physiology [1, 2]. The effective development of these devices requires a solid understanding of their interconnected fluidics, to predict the transport of nutrients and waste through the constructs and improve the design accordingly. In this work, we focus on a specific model of bioreactor, with multiple input/outputs, aimed at generating osteochondral constructs, i.e., a biphasic construct in which one side is cartilaginous in nature, while the other is osseous. We next develop a general computational approach to model the microfluidics of a multi-chamber, interconnected system that may be applied to human-on-chip devices. This objective requires overcoming several challenges at the level of computational modeling. The main one consists of addressing the multi-physics nature of the problem that combines free flow in channels with hindered flow in porous media. Fluid dynamics is also coupled with advection-diffusion-reaction equations that model the transport of biomolecules throughout the system and their interaction with living tissues and C constructs. Ultimately, we aim at providing a predictive approach useful for the general organ-on-chip community. To this end, we have developed a lumped parameter approach that allows us to analyze the behavior of multi-unit bioreactor systems with modest computational effort, provided that the behavior of a single unit can be fully characterized.
No MeSH data available.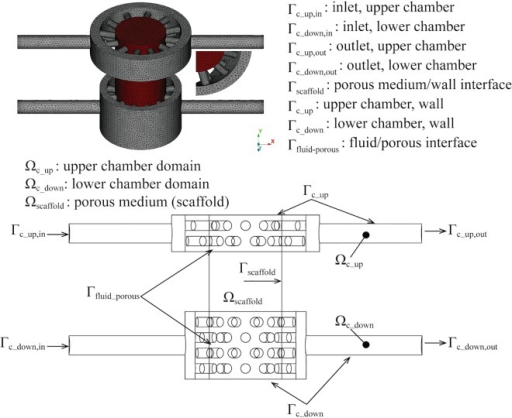 © Copyright Policy
License
getmorefigures.php?uid=PMC5036894&req=5
Mentions: The bioreactor features the combination of free flow for the inlets, outlets, and the outer chambers with porous media flow for the inner culture chamber (insert). In each region, we assume that the flow is incompressible. For momentum balance, our approach employs a general equation that encompasses the nature of both types of flow, and we will switch between them by suitably tuning the problem parameters in each region. This equation has the structure of Brinkman equation for flow in porous media, because it combines viscous terms, such as in Stokes, with friction terms, such as in Darcy. To model free flow, a convective term, which plays a significant role in case of high Reynolds regimes, was added. Static conditions are also assumed. Then, the momentum balance equation reads as follows:∇∙(ρU_×U_)−∇∙(μ(∇U_+(∇U_)T))=−μKpermU_−∇p∀x∈Ωc_up∪Ωcdown∪Ωscaffold(1)where denotes the velocity vector field ( and denote the restriction of the velocity field to the free fluid and porous medium, respectively), p the hydrostatic pressure, ρ e μ are the fluid viscosity and density respectively, and Kperm the hydraulic conductivity of the porous medium (for the free flow regions we set Kperm → ∞). For the partition of the bioreactor into sub-regions, we refer to Fig 2. We assume that the culture medium that perfuses the bioreactor is comparable to water (ρ = 999,97 kg/m3μ = 0,001 Pa s) since the dissolved nutrients and other chemical species are relatively dilute.