Immune-Mediated Nephropathy and Systemic Autoimmunity in Mice Does Not Require Receptor Interacting Protein Kinase 3 (RIPK3)
ABSTRACT
---
Immune mediated nephropathy is one of the most serious manifestations of lupus and is characterized by severe inflammation and necrosis that, if untreated, eventually leads to renal failure. Although lupus has a higher incidence in women, both sexes can develop lupus glomerulonephritis; nephritis in men develops earlier and is more severe than in women. It is therefore important to understand the cellular and molecular mechanisms mediating nephritis in each sex. Previous work by our lab found that the absence or pharmacological inhibition of Poly [ADP-ribose] polymerase 1 (PARP-1), an enzyme involved in DNA repair and necrotic cell death, affects only male mice and results in milder nephritis, with less in situ inflammation, and diminished incidence of necrotic lesions, allowing for higher survival rates. A second pathway mediating necrosis involves Receptor-Interacting Serine-Threonine Kinase 3 (RIPK3); in this study we sought to investigate the impact of RIPK3 on the development of lupus and nephritis in both sexes. To this end, we used two inducible murine models of lupus: chronic graft versus host disease (cGvHD) and pristane-induced lupus; and nephrotoxic serum (NTS)-induced nephritis as a model of immune mediated nephropathy. We found that the absence of RIPK3 has neither positive nor negative impact on the disease development or progression of lupus and nephritis in all three models, and in both male and female mice. We conclude that RIPK3 is dispensable for the pathogenesis of lupus and immune mediated nephropathy as to accelerate, worsen or ameliorate the disease.
No MeSH data available.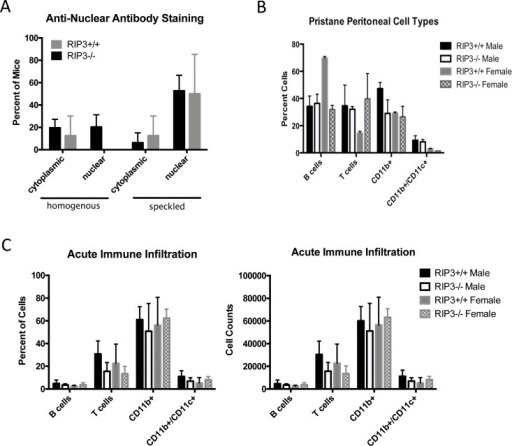 © Copyright Policy
License
getmorefigures.php?uid=PMC5036882&req=5
Mentions: Type I Interferon (IFN-I) plays a major role in lupus pathogenesis [23]. SLE patients have higher levels of IFN-I in peripheral blood than their healthy counterparts (named "Interferon signature") [24]. IFN-I is a potent stimulator of the innate and adaptive immune response [25] and treatment with IFN-I can accelerate lupus onset [26]. Finally, IFN-I induces necrosis via RIPK3 [27]. Due to the role of IFN-I in SLE, we studied the impact of RIPK3 in the pristane-induced lupus model, which is IFN-I dependent [28]. After 6 months, we investigated the presence of anti-nuclear antibodies in the serum. As expected in the pristane model, treated mice did not develop kidney disease and shown by renal histology scores (S1 Fig); moreover both RIPK3-/- and B6 mice of both sexes developed similar levels of anti-nuclear antibodies (Fig 2A). Pristane-induced autoimmunity is characterized by the development of lipogranulomas in the peritoneum. Both the RIPK3-/- and B6 mice produced similar lipogranulomas, both in number and gross-anatomy appearance (data not shown). Analysis of mouse peritoneal cells showed similar recruitment of T cells (CD3+), B cells (B220+), CD11c+ cells, and CD11c+/CD11b+ cells within the RIPK3-/- male and female mice compared to the wild-type (Fig 2B). These results do show a significant difference in the percentage of T and B cells compared to the wild type mouse strains. Although we do not fully understand the significance of this finding, nevertheless the disease outcomes of all mice were similar, which suggests this difference in cell populations does not appear to impact the development of autoimmunity in the pristane model. In the pristane model, by month 6, most of the immune cells have moved out of the peritoneum, into the spleen and lipogranulomas. For this reason, we decided to look at the peritoneal immune cell infiltration also only 2 weeks following pristane injection. At 2 weeks post-injection, all mice displayed similar levels of B cells, T cells, CD11b+, and CD11b+/CD11c+ cells both by percentage and cell counts (Fig 2C) without any statistical difference. From these data, we can conclude that absence of RIPK3 does not significantly alter the development of IFN-I-mediated systemic autoimmunity in either sex.