Using a Control to Better Understand Phyllosphere Microbiota
ABSTRACT
---
An important data gap in our understanding of the phyllosphere surrounds the origin of the many microbes described as phyllosphere communities. Most sampling in phyllosphere research has focused on the collection of microbiota without the use of a control, so the opportunity to determine which taxa are actually driven by the biology and physiology of plants as opposed to introduced by environmental forces has yet to be fully realized. To address this data gap, we used plastic plants as inanimate controls adjacent to live tomato plants (phyllosphere) in the field with the hope of distinguishing between bacterial microbiota that may be endemic to plants as opposed to introduced by environmental forces. Using 16S rRNA gene amplicons to study bacterial membership at four time points, we found that the vast majority of all species-level operational taxonomic units were shared at all time-points. Very few taxa were unique to phyllosphere samples. A higher taxonomic diversity was consistently observed in the control samples. The high level of shared taxonomy suggests that environmental forces likely play a very important role in the introduction of microbes to plant surfaces. The observation that very few taxa were unique to the plants compared to the number that were unique to controls was surprising and further suggests that a subset of environmentally introduced taxa thrive on plants. This finding has important implications for improving our approach to the description of core phytobiomes as well as potentially helping us better understand how foodborne pathogens may become associated with plant surfaces.
No MeSH data available.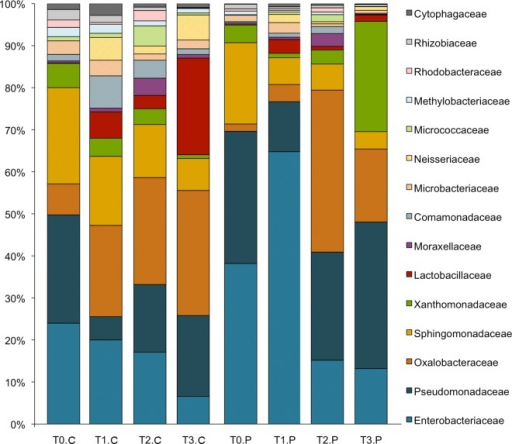 © Copyright Policy
License
getmorefigures.php?uid=PMC5036865&req=5
Mentions: A total of eight independent replicates for each treatment (n = 2) and time-point (n = 4) were used to compare the bacterial composition associated with each surface type (i.e. control (plastic) and phyllosphere). 16S rRNA amplicon sequences were filtered for quality and clustered into operational taxonomic units (OTUs) using the QIIME package (see methods). To normalize for differences in sequencing depth, all replicates were subsampled to 2,500 sequences prior to downstream statistical comparisons. Excluding low abundance taxa–(less than 0.5% of libraries), we observed very high percentages of shared OTUs. Shared bacterial taxa ranged from 92.59% to 100% for all time-points (Table 1). Only 2 unique OTUs were observed in control samples on August 15th 2013, and 2 OTUs unique to phyllosphere were observed on June 30th 2014 and July 31st 2014 (Table 1). When Time-point 0 was examined independently at a deeper level of sequencing depth (16,074 sequences per sample), the percentage of shared taxa remained high at 94.7%. With the inclusion of low abundance OTUs (all those that occurred in less than 0.5% of the data), an interesting trend was observed. For almost every time point–there was a greater diversity of low abundance OTUs present in control samples when compared to phyllosphere samples (Table 2). This implies that the air is host to a greater diversity of microbes than can be found on the surfaces of plants and that a subset of bacterial members thrive in the phyllosphere. This trend was even more pronounced in Time-point 0, when it was examined independently. Without rarefying to 2500 but instead maintaining all 16,074 sequences recovered for each replicate and including the low abundance OTUs—3,249 sequences were uniquely associated with controls (representing 198 OTUs) while only 63 sequences (representing 36 OTUs) were uniquely associated with phyllosphere samples (live tomato plants) (Fig 1). The most abundant phyllosphere unique taxa were Rubrobacter, Acidovorax, Peptoniphilus, Porphyromonas and undefined members of Acidimicrobiaceae, Nitrospiraceae families and the phylum Chloroflexi. Dominant unique taxa for controls were Turicibacter, Vagococcus, Bacteriodes, Wohlfahrtimonas, Prevotella, and undetermined members of Lachnospiraceae, Ruminococcaceae and Veillonellaceae families (Fig 1). Profiles of dominant bacterial families observed in our rarefied datasets for all time-points and treatments, including the store microbiota are shown by independent replicate in S1 Fig. Fig 2 shows the most abundant families that were observed in 16S rRNA gene libraries for merged independent replicates of phyllosphere (P) and control (C) samples. Despite the dominance of Enterobacteriaceae in phyllosphere and control samples, high-resolution taxonomic analysis using the Resphera Insight protocol described Pantoea, Erwinia and Serratia species, but found no evidence of Salmonella across the sample set in either phyllosphere or control samples.