Salivary Gland Proteome during Adult Development and after Blood Feeding of Female Anopheles dissidens Mosquitoes (Diptera: Culicidae)
ABSTRACT
---
Understanding changes in mosquito salivary proteins during the time that sporozoite maturation occurs and after blood feeding may give information regarding the roles of salivary proteins during the malarial transmission. Anopheles dissidens (formerly Anopheles barbirostris species A1) is a potential vector of Plasmodium vivax in Thailand. In this study, analyses of the proteomic profiles of female An. dissidens salivary glands during adult development and after blood feeding were carried out using two-dimensional gel electrophoresis coupled with nano-liquid chromatography-mass spectrometry. Results showed at least 17 major salivary gland proteins present from day one to day 21 post emergence at 8 different time points sampled. Although there was variation observed, the patterns of protein expression could be placed into one of four groups. Fifteen protein spots showed significant depletion after blood feeding with the percentages of the amount of depletion ranging from 8.5% to 68.11%. The overall results identified various proteins, including a putative mucin-like protein, an anti-platelet protein, a long form D7 salivary protein, a putative gVAG protein precursor, a D7-related 3.2 protein, gSG7 salivary proteins, and a gSG6 protein. These results allow better understanding of the changes of the salivary proteins during the adult mosquito development. They also provide candidate proteins to investigate any possible link or not between sporozoite maturation, or survival of skin stage sporozoites, and salivary proteins.
No MeSH data available.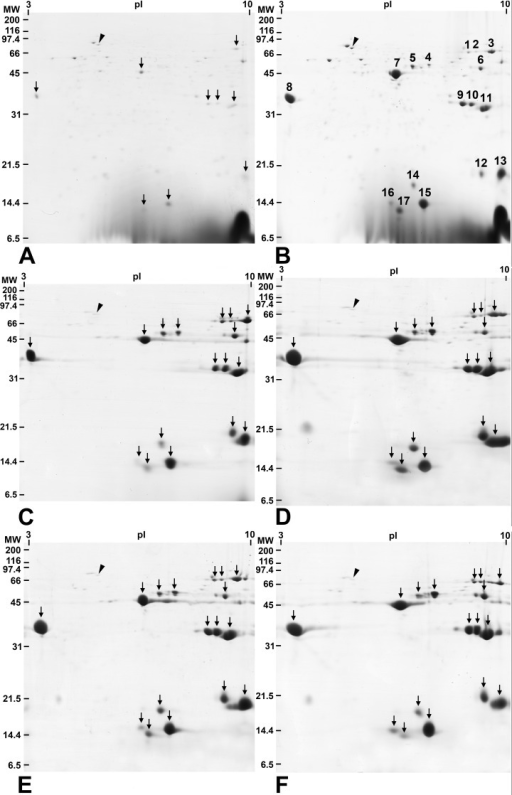 © Copyright Policy
License
getmorefigures.php?uid=PMC5036837&req=5
Mentions: Two-dimensional electrophoresis gels of salivary gland samples collected 0, 1, 3, 12, 16 and 21 days after emergence are shown in Fig 1A–1F. The proteins accumulated following emergence, to reach a typical profile after 1 day (Fig 1B). The profile consisted of approximately 80 well-resolved spots with molecular masses of 13 to 80 kilodaltons and isoelectric points ranging from 3.8 to 10. Of these, there were 17 major salivary gland proteins observed from 1 to 21 days after emergence for which peptide sequence data was obtained (Table 1). These were each given a spot number (SN) from 1 to 17 (Table 1, Fig 1B). In newly emerged mosquitoes (day 0), the 2D profile revealed 9 of the 17 major protein spots, namely spot numbers SN3, 7–11, 13, 15 and 17 (Fig 1A). The remaining 8 major spots were first detected in the salivary glands of females on day 1 after emergence. Each of the 17 major protein spots were excised and subjected to nanoLC-MS for identification. The results of mass spectrometry analysis are summarized in Table 1. The 17 major protein spots gave significant matches to protein sequences from various species of mosquito. The identified proteins included three apyrases (SN 1–3), four putative-mucin like proteins (SN 4–7), an anti-platelet protein (SN 8), two long form D7 proteins (SN 9 and 10), a gVAG precursor (SN 11), three short form D7 related proteins (SN 12–14), two gSG7 proteins (SN 15 and 16) and gSG6 (SN 17).