Expression of 6-Cys Gene Superfamily Defines Babesia bovis Sexual Stage Development within Rhipicephalus microplus
ABSTRACT
---
Babesia bovis, an intra-erythrocytic tick-borne apicomplexan protozoan, is one of the causative agents of bovine babesiosis. Its life cycle includes sexual reproduction within cattle fever ticks, Rhipicephalus spp. Six B. bovis 6-Cys gene superfamily members were previously identified (A, B, C, D, E, F) where their orthologues in Plasmodium parasite have been shown to encode for proteins required for the development of sexual stages. The current study identified four additional 6-Cys genes (G, H, I, J) in the B. bovis genome. These four genes are described in the context of the complete ten 6-Cys gene superfamily. The proteins expressed by this gene family are predicted to be secreted or surface membrane directed. Genetic analysis comparing the 6-Cys superfamily among five distinct B. bovis strains shows limited sequence variation. Additionally, A, B, E, H, I and J genes were transcribed in B. bovis infected tick midgut while genes A, B and E were also transcribed in the subsequent B. bovis kinete stage. Transcription of gene C was found exclusively in the kinete. In contrast, transcription of genes D, F and G in either B. bovis infected midguts or kinetes was not detected. None of the 6-Cys transcripts were detected in B. bovis blood stages. Subsequent protein analysis of 6-Cys A and B is concordant with their transcript profile. The collective data indicate as in Plasmodium parasite, certain B. bovis 6-Cys family members are uniquely expressed during sexual stages and therefore, they are likely required for parasite reproduction. Within B. bovis specifically, proteins encoded by 6-Cys genes A and B are markers for sexual stages and candidate antigens for developing novel vaccines able to interfere with the development of B. bovis within the tick vector.
No MeSH data available.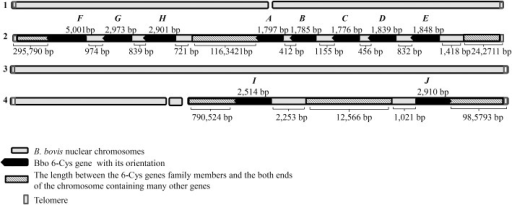 © Copyright Policy
License
getmorefigures.php?uid=PMC5036836&req=5
Mentions: Six 6-Cys gene-family members were previously identified in B. bovis and are designated as Bbo 6-Cys A-F [24]. Four additional Bbo 6-Cys genes (GenBank accession numbers: XP_ II001190, XP_II001120, XP_IV007390 and XP_IV007480) were identified by TBLASTN searches using Plasmodium 6-Cys domain. They are designated as Bbo 6-Cys G, H, I and J. The exact chromosome localizations, lengths, and features of the ten B. bovis 6-Cys genes are detailed in Fig 1 and Table 1. Briefly, Bbo 6-Cys genes A-H and I-J are on chromosomes 2 and 4, respectively. The previously characterized Bbo 6-Cys A-E genes cluster together and are tandemly arranged in a head to tail organization [24]. The newly identified Bbo 6-Cys F-H genes form a separate cluster, and are oriented in the same manner as A-E on the opposite end of chromosome 2. The two clusters, A-E and F-H are separated by 1,163,421 bps (Fig 1). In contrast, Bbo 6-Cys I and J genes are located on chromosome 4, separated by 12,566 bps and are oriented head to head (Fig 1).