Modulating Behavior in C . elegans Using Electroshock and Antiepileptic Drugs
ABSTRACT
---
The microscopic nematode Caenorhabditis elegans has emerged as a valuable model for understanding the molecular and cellular basis of neurological disorders. The worm offers important physiological similarities to mammalian models such as conserved neuron morphology, ion channels, and neurotransmitters. While a wide-array of behavioral assays are available in C. elegans, an assay for electroshock/electroconvulsion remains absent. Here, we have developed a quantitative behavioral method to assess the locomotor response following electric shock in C. elegans. Electric shock impairs normal locomotion, and induces paralysis and muscle twitching; after a brief recovery period, shocked animals resume normal locomotion. We tested electric shock responses in loss-of-function mutants for unc-25, which encodes the GABA biosynthetic enzyme GAD, and unc-49, which encodes the GABAA receptor. unc-25 and unc-49 mutants have decreased inhibitory GABAergic transmission to muscles, and take significantly more time to recover normal locomotion following electric shock compared to wild-type. Importantly, increased sensitivity of unc-25 and unc-49 mutants to electric shock is rescued by treatment with antiepileptic drugs, such as retigabine. Additionally, we show that pentylenetetrazol (PTZ), a GABAA receptor antagonist and proconvulsant in mammalian and C. elegans seizure models, increases susceptibility of worms to electric shock.
No MeSH data available.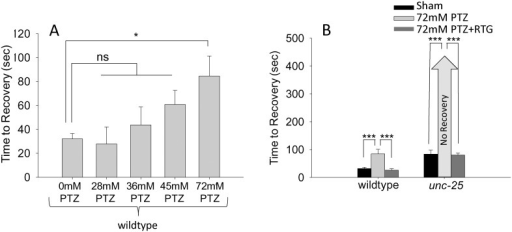 © Copyright Policy
License
getmorefigures.php?uid=PMC5036823&req=5
Mentions: To pharmacologically assess how altering GABAergic transmission affects recovery from electric shock, we treated wild-type animals with PTZ. In wild-type animals, a dose response curve suggested a concentration of 72mM was enough to significantly slow recovery compared to sham controls (Student's t-test, T(2, 63) = -2.35, P≤0.05, Fig 4A). To our knowledge, this is the first example of a behavioral assay in which wild-type C. elegans are susceptible to PTZ, as previous studies did not detect responses in wild-type animals to even PTZ concentrations as high as 145mM (approximately 20mg/mL) [19]. The effect of PTZ we observed was suppressed by co-treating animals with RTG, consistent with PTZ inhibiting the GABA receptor and GABAergic function (Fig 4A). Unexpectedly, when unc-25 mutants were exposed to 72mM PTZ they did not recover suggesting survival might be lost in these animals after electric shock (>400 seconds, Fig 4B). However, when unc-25 animals were exposed to a cocktail of 72mM PTZ and 1mM RTG, the worms showed drastically improved recovery following electroshock (80.4±7.8 seconds, Fig 4B). unc-25 animals were then exposed to concentrations of PTZ that were significantly less than 72mM to determine if unc-25 would recover at lower concentrations of PTZ (Fig 5A). A dose response curve for PTZ determined unc-25 recovered locomotion after 30 minutes of exposure followed by electric shock and that 1mM PTZ exposure took significantly longer to recover compared to control (Student's t-test, T(2, 44) = -3.324, P<0.05). Similar to results with higher concentration of PTZ, a cocktail of 1 mM PTZ and 1mM RTG significantly decreased time to recovery (Student's t-test, T(2, 34) = 2.534, P<0.05). These pharmacological results complement our genetic experiments, and re-enforce the concept that reducing GABAergic motor neuron function increases susceptibility to electroshock.