Genomic Mining of Phylogenetically Informative Nuclear Markers in Bark and Ambrosia Beetles
ABSTRACT
---
Deep level insect relationships are generally difficult to resolve, especially within taxa of the most diverse and species rich holometabolous orders. In beetles, the major diversity occurs in the Phytophaga, including charismatic groups such as leaf beetles, longhorn beetles and weevils. Bark and ambrosia beetles are wood boring weevils that contribute 12 percent of the diversity encountered in Curculionidae, one of the largest families of beetles with more than 50000 described species. Phylogenetic resolution in groups of Cretaceous age has proven particularly difficult and requires large quantity of data. In this study, we investigated 100 nuclear genes in order to select a number of markers with low evolutionary rates and high phylogenetic signal. A PCR screening using degenerate primers was applied to 26 different weevil species. We obtained sequences from 57 of the 100 targeted genes. Sequences from each nuclear marker were aligned and examined for detecting multiple copies, pseudogenes and introns. Phylogenetic informativeness (PI) and the capacity for reconstruction of previously established phylogenetic relationships were used as proxies for selecting a subset of the 57 amplified genes. Finally, we selected 16 markers suitable for large-scale phylogenetics of Scolytinae and related weevil taxa.
No MeSH data available.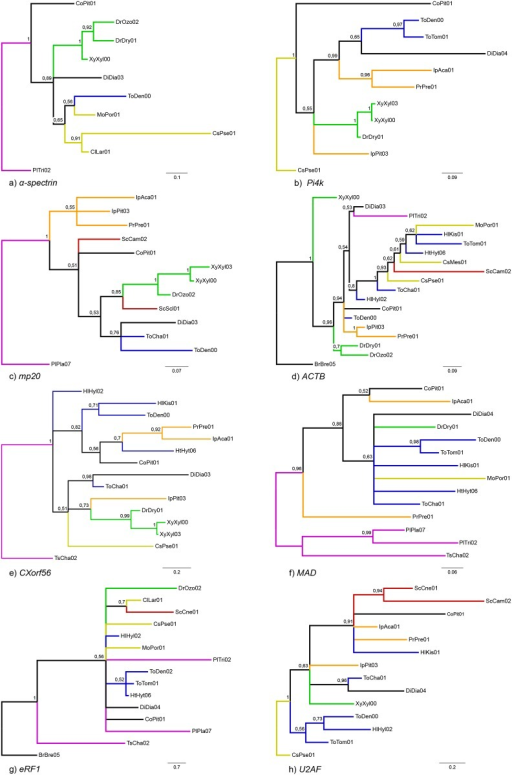 © Copyright Policy
License
getmorefigures.php?uid=PMC5036811&req=5
Mentions: One of the main characteristics shared by several of the 18 genes that were not selected was the generally low, and sometimes clade-specific, PCR and sequencing success (S3 Table). These genes also exhibited many problems in phylogeny reconstruction when sufficient data were obtained, including failure to recover well-established clades (Fig 5). For example, very few sequences were acquired for α-spectrin, with no sequences obtained for three of the groups (B, C and D), producing a tree topology with only one correct clade recovered (A, pp = 1) and therefore difficult to evaluate (Fig 5a). A similar situation was reported for phosphatidylinositol 4-kinase type 2-alpha (Pi4k) where no sequences were obtained for the clades D and E, but two clades (A, pp = 1 and C, pp = 0.97) were recovered correctly (Fig 5b), and a third group was nearly monophyletic (B, excluding Pityogenes quadridens, pp = 0.96). For muscular protein 20 (mp20) we obtained a higher number of sequences (12), with two monophyletic groups recovered (clade A, pp = 1 and B, pp<0.95), but with group D (Scolytini) not monophyletic (Fig 5c). In the case of the beta-actin gene (ACTB), sequences were obtained from 18 different species, including 5 species of Hylurgini. However, the phylogeny recovered only one of the youngest clades (B, pp = 1), while all other groups were largely paraphyletic (Fig 5d). In the chromosome X open reading frame 56 gene (CXorf56), only the youngest group (clade A, pp = 0.99) was correctly recovered (Fig 5e) whereas closely related species did not group together. Another poorly performing gene was MAD, with a phylogenetic tree showing a large polytomy that included a highly paraphyletic Hylurgini (clade C). This gene nevertheless distinguished Platypodinae (pp = 0.96) from all other advanced weevils at the root of the tree (Fig 5f). A similar situation was also observed for the eukaryotic peptide chain release factor subunit 1 (eRF1) gene. The phylogeny largely formed a polytomy (Fig 5g), and included many paraphyletic groups, including Platypodinae (clade E). The phylogeny for splicing factor U2F showed a largely unstructured tree with generally low support (Fig 5h), with only Scolytini monophyletic (clade D, pp<0.95).