Probing Cellular and Molecular Mechanisms of Cigarette Smoke-Induced Immune Response in the Progression of Chronic Obstructive Pulmonary Disease Using Multiscale Network Modeling
ABSTRACT
---
Chronic obstructive pulmonary disease (COPD) is a chronic inflammatory disorder characterized by progressive destruction of lung tissues and airway obstruction. COPD is currently the third leading cause of death worldwide and there is no curative treatment available so far. Cigarette smoke (CS) is the major risk factor for COPD. Yet, only a relatively small percentage of smokers develop the disease, showing that disease susceptibility varies significantly among smokers. As smoking cessation can prevent the disease in some smokers, quitting smoking cannot halt the progression of COPD in others. Despite extensive research efforts, cellular and molecular mechanisms of COPD remain elusive. In particular, the disease susceptibility and smoking cessation effects are poorly understood. To address these issues in this work, we develop a multiscale network model that consists of nodes, which represent molecular mediators, immune cells and lung tissues, and edges describing the interactions between the nodes. Our model study identifies several positive feedback loops and network elements playing a determinant role in the CS-induced immune response and COPD progression. The results are in agreement with clinic and laboratory measurements, offering novel insight into the cellular and molecular mechanisms of COPD. The study in this work also provides a rationale for targeted therapy and personalized medicine for the disease in future.
No MeSH data available.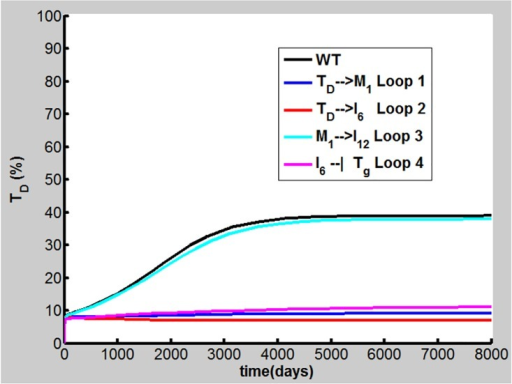 © Copyright Policy
License
getmorefigures.php?uid=PMC5036797&req=5
Mentions: To investigate the importance of the positive feedback loops shown in Fig 1 in COPD progression, a feedback loop breaking approach is applied in the present study. Here, four aforementioned positive feedback loops, M1→TD→M1 (Loop 1), IL-6→Th17→ IL-17→TD→IL-6 (Loop 2), M1→IL-12→Th1→IFN-γ→M1 (Loop 3), and IL-6 ┫Treg→IL-10 ┫Th17→IL-17→TD→IL-6 (Loop 4), are explored by setting, e.g., k3 in Eq (A), kI6, TD in Eq (J), and kI12, M1 in S1 File to zero, leading to the breaking of Loops 1–3 on TD→M1, TD→IL-6, and M1→IL-12, respectively. We set KTg, I6 in Eq 6 to a very large value, e.g., 104 to break Loop 4 on IL-6 ┫Treg in the calculation. Simulations were performed using our model with the parameters in Table A in S1 File (dTD = 2.9×10−3/day). The results reveal that breaking Loop 1, 2, or 4 allows TD to remain less than 10% (Fig 11), indicating that COPD does not occur. However, breaking Loop 3 has no profound effects on COPD progression (cyan line in Fig 11). This finding is consistent with virtual knockout of Th1 discussed above.