TrpM, a Small Protein Modulating Tryptophan Biosynthesis and Morpho-Physiological Differentiation in Streptomyces coelicolor A3(2)
ABSTRACT
---
In the model actinomycete Streptomyces coelicolor A3(2), small open reading frames encoding proteins with unknown functions were identified in several amino acid biosynthetic gene operons, such as SCO2038 (trpX) in the tryptophan trpCXBA locus. In this study, the role of the corresponding protein in tryptophan biosynthesis was investigated by combining phenotypic and molecular analyses. The 2038KO mutant strain was characterized by delayed growth, smaller aerial hyphae and reduced production of spores and actinorhodin antibiotic, with respect to the WT strain. The capability of this mutant to grow on minimal medium was rescued by tryptophan and tryptophan precursor (serine and/or indole) supplementation on minimal medium and by gene complementation, revealing the essential role of this protein, here named TrpM, as modulator of tryptophan biosynthesis. His-tag pull-down and bacterial adenylate cyclase-based two hybrid assays revealed TrpM interaction with a putative leucyl-aminopeptidase (PepA), highly conserved component among various Streptomyces spp. In silico analyses showed that PepA is involved in the metabolism of serine, glycine and cysteine through a network including GlyA, CysK and CysM enzymes. Proteomic experiments suggested a TrpM-dependent regulation of metabolic pathways and cellular processes that includes enzymes such as GlyA, which is required for the biosynthesis of tryptophan precursors and key proteins participating in the morpho-physiological differentiation program. Altogether, these findings reveal that TrpM controls tryptophan biosynthesis at the level of direct precursor availability and, therefore, it is able to exert a crucial effect on the morpho-physiological differentiation program in S. coelicolor A3(2).
No MeSH data available.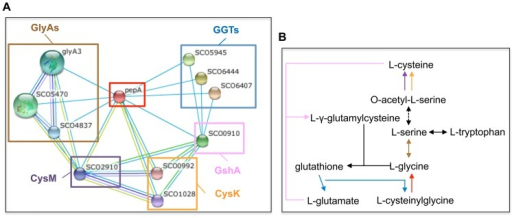 © Copyright Policy
License
getmorefigures.php?uid=PMC5036795&req=5
Mentions: A bioinformatic analysis of disordered/unstructured regions was performed on the TrpM amino acid sequence, using the DisEMBL computational tool [20]; it revealed that the N- and C-domains are disordered regions putatively involved in protein binding. In order to investigate the TrpM interactome, TrpM was overproduced as a His-tag protein in E. coli BL21(DE3)pLysS and purified by using metal-affinity chromatography (S3 Fig). Pull-down assay was performed using immobilized His-tagged TrpM as bait incubated with total protein extracts obtained from S. coelicolor A(3)2 grown on MM. SDS-PAGE and mass spectrometry identified ribosomal proteins S1 and S2, and putative leucyl aminopeptidase (PepA) in the prey protein fraction; they are the products of SCO1998, SCO5624 and SCO2179 genes, respectively. Interestingly, PepA was shown to play a role in S. coelicolor A3(2) antibiotic production and sporulation, although its molecular function has not yet been demonstrated [21]. Moreover, proteomic analysis carried out on a PepA disruption mutant strain showed an over-representation of GlyA, suggesting a negative control of PepA on GlyA [21]. The interaction between TrpM and PepA was confirmed by a bacterial adenylate cyclase two-hybrid assay (BACTH) experiment (S4 Fig) [22]. Interestingly, an in silico analysis by STRING database interrogation [23] suggested a PepA, GlyA, CysK and CysM network (Fig 6) involved in Ser, Gly and cysteine metabolism (Fig 6A). The central role of Ser was confirmed by the fact that the supplementation of Gly and Cys, as well as the addition of other amino acids such as tyrosine (Tyr), histidine (His) and proline (Pro), did not restore the growth rate of strain 2038KO. Thus, the interaction with PepA suggests that TrpM might control the intracellular pool of Ser via GlyA, consequently affecting the rate of Trp biosynthesis (Fig 6). These data are supported by proteomic analysis that showed a differential abundance of GlyA and of proteins involved in Cys and Trp metabolism in the 2038KO strain (Fig 5). Finally, a possible involvement of TrpM on translational control was suggested by the interaction with ribosomal proteins RpsA and RpsB. The latter, which was revealed as differentially represented in both 2038KO MM vs WT MM and 2038KO MM vs 2038KO MM-Trp proteomic comparisons (S1 Table), is involved in the formation of the translation initiation complex, where it contacts mRNA and allows ribonucleotide binding to 30S subunit RpsA, which in turn exerts a chaperone activity toward unfolded mRNAs [24, 25]. Further dedicated studies are necessary to confirm and to elucidate possible general or specific (possibly Trp dependent) roles for TrpM in controlling mRNA translation steps.