TrpM, a Small Protein Modulating Tryptophan Biosynthesis and Morpho-Physiological Differentiation in Streptomyces coelicolor A3(2)
ABSTRACT
---
In the model actinomycete Streptomyces coelicolor A3(2), small open reading frames encoding proteins with unknown functions were identified in several amino acid biosynthetic gene operons, such as SCO2038 (trpX) in the tryptophan trpCXBA locus. In this study, the role of the corresponding protein in tryptophan biosynthesis was investigated by combining phenotypic and molecular analyses. The 2038KO mutant strain was characterized by delayed growth, smaller aerial hyphae and reduced production of spores and actinorhodin antibiotic, with respect to the WT strain. The capability of this mutant to grow on minimal medium was rescued by tryptophan and tryptophan precursor (serine and/or indole) supplementation on minimal medium and by gene complementation, revealing the essential role of this protein, here named TrpM, as modulator of tryptophan biosynthesis. His-tag pull-down and bacterial adenylate cyclase-based two hybrid assays revealed TrpM interaction with a putative leucyl-aminopeptidase (PepA), highly conserved component among various Streptomyces spp. In silico analyses showed that PepA is involved in the metabolism of serine, glycine and cysteine through a network including GlyA, CysK and CysM enzymes. Proteomic experiments suggested a TrpM-dependent regulation of metabolic pathways and cellular processes that includes enzymes such as GlyA, which is required for the biosynthesis of tryptophan precursors and key proteins participating in the morpho-physiological differentiation program. Altogether, these findings reveal that TrpM controls tryptophan biosynthesis at the level of direct precursor availability and, therefore, it is able to exert a crucial effect on the morpho-physiological differentiation program in S. coelicolor A3(2).
No MeSH data available.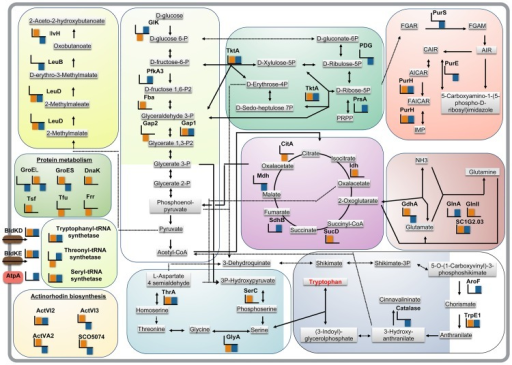 © Copyright Policy
License
getmorefigures.php?uid=PMC5036795&req=5
Mentions: Indeed, quantitative changes in 2038KO MM vs WT MM and 2038KO MM vs 2038KO MM-Trp comparisons were evident for proteins involved in different molecular and metabolic processes, including amino acid biosynthesis, carbon and nitrogen metabolism, antibiotic production and morphological differentiation, in agreement with the described phenotypic observations. The role of these proteins is described in detail in the S1 File, with the exception of enzymes associated with Trp biosynthesis. In particular, proteins involved in the synthesis and utilization of Trp, or in the metabolism of Trp precursors and related intermediates were over-represented in the 2038KO MM with respect to WT. They are: i) anthranilate synthase (TrpE1), a paralogous gene conserved in Streptomyces, which catalyzes the conversion of chorismate into anthranilate [17]; ii) tryptophanyl-tRNA synthetase 1 (TrpS1); iii) phosphoserine aminotransferase (SerC) and homoserine dehydrogenase (ThrA), which are involved in the biosynthesis of Ser and threonine from central carbon metabolites, respectively (Fig 5). In addition, the under-representation of serine-hydroxymethyltransferase (GlyA), which is putatively devoted to the conversion of Ser to glycine (Gly) [18], suggests an increased availability of Ser in order to supply Trp biosynthesis (Fig 5). All these proteins had concordant abundance profiles in both 2038KO MM vs WT MM and 2038KO MM vs 2038KO MM-Trp comparisons, with the exception of SerC, whose IC profile suggested that its accumulation is due to the trpM mutation. Moreover, the transketolase (TktA), involved in the synthesis of D-erythrose-4-P, required for aromatic amino acid biosynthesis was over-represented in 2038KO MM. Interestingly, this was the only enzyme among those belonging to carbon metabolism group having an II profile, thus highlighting an increased need for this enzyme in the 2038KO MM condition. Similarly, the accumulation profiles of cysteine desulfurase (DD profile) and thiosulfate sulfurtransferase (CD profile) also suggested a relationship between sulphur metabolism and Trp synthesis/supplementation, probably due to the central role of Ser in both cysteine (Cys) and Trp biosynthesis, according to metabolic pathways of the KEGG2 database [19].