TrpM, a Small Protein Modulating Tryptophan Biosynthesis and Morpho-Physiological Differentiation in Streptomyces coelicolor A3(2)
ABSTRACT
---
In the model actinomycete Streptomyces coelicolor A3(2), small open reading frames encoding proteins with unknown functions were identified in several amino acid biosynthetic gene operons, such as SCO2038 (trpX) in the tryptophan trpCXBA locus. In this study, the role of the corresponding protein in tryptophan biosynthesis was investigated by combining phenotypic and molecular analyses. The 2038KO mutant strain was characterized by delayed growth, smaller aerial hyphae and reduced production of spores and actinorhodin antibiotic, with respect to the WT strain. The capability of this mutant to grow on minimal medium was rescued by tryptophan and tryptophan precursor (serine and/or indole) supplementation on minimal medium and by gene complementation, revealing the essential role of this protein, here named TrpM, as modulator of tryptophan biosynthesis. His-tag pull-down and bacterial adenylate cyclase-based two hybrid assays revealed TrpM interaction with a putative leucyl-aminopeptidase (PepA), highly conserved component among various Streptomyces spp. In silico analyses showed that PepA is involved in the metabolism of serine, glycine and cysteine through a network including GlyA, CysK and CysM enzymes. Proteomic experiments suggested a TrpM-dependent regulation of metabolic pathways and cellular processes that includes enzymes such as GlyA, which is required for the biosynthesis of tryptophan precursors and key proteins participating in the morpho-physiological differentiation program. Altogether, these findings reveal that TrpM controls tryptophan biosynthesis at the level of direct precursor availability and, therefore, it is able to exert a crucial effect on the morpho-physiological differentiation program in S. coelicolor A3(2).
No MeSH data available.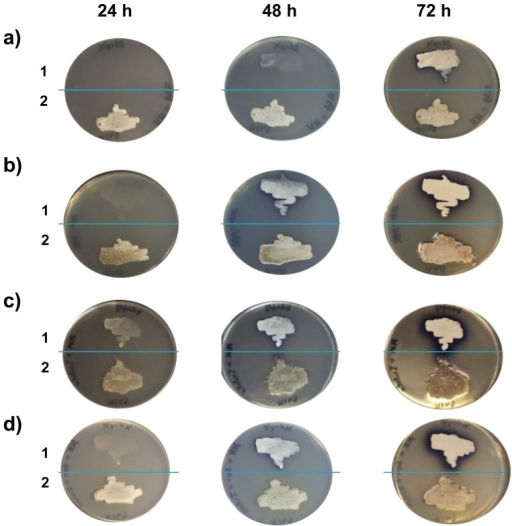 © Copyright Policy
License
getmorefigures.php?uid=PMC5036795&req=5
Mentions: All these results revealed that SCO2038 is involved in Trp biosynthesis. However, in contrast to the phenotype caused by mutations in trpB and trpA genes, which cause auxotrophy [15], the 2038KO mutant was characterized by a slow rate of growth on MM. This evidence suggests that the strain is still able to synthetize Trp but less efficiently than the WT strain. The enzymes encoded by the trpCXBA locus are involved in the last steps of Trp biosynthesis; in particular, TrpA produces indole from indole-3-glycerol phosphate supplied by TrpC, while TrpB condenses indole (Ind) and serine (Ser), which is obtained from the cellular pool, to form Trp. In order to assess whether the SCO2038 gene product is involved in the last steps of the biosynthetic pathway leading to Trp production, we tested the effects of the supplementation of Trp precursors, namely Ser and Ind, on the growth of the mutant. Also in this case, both Ser and/or Ind specifically abolished the observed growth-delay, similarly to what was observed for Trp supplementation (Fig 2). Notably, addition of Ind worked better than addition of Ser. On the contrary, the supplementation of Ser and Ind to trpA and trpB knockout strains, previously obtained in our lab (unpublished data), did not abolish their inability of growing on MM (S1 Fig). Thus, these results indicated that SCO2038 is not involved in the Ser-Ind condensation reaction during the course of Trp biosynthesis. In addition, these results suggest that the cellular availability of Ser and Ind, which are diverted to Trp biosynthesis, is a bottleneck in the growth of the 2038KO mutant. Based on this evidence, together with the results described below, which revealed an involvement of SCO2038 in the modulation of Trp precursor biosynthesis, we therefore decided to change the original name trpX to trpM for Modulator of Trp biosynthesis; the corresponding SCO2038 product is henceforth named TrpM.