The Association of CXC Receptor 4 Mediated Signaling Pathway with Oxaliplatin-Resistant Human Colorectal Cancer Cells
ABSTRACT
---
The stromal cell–derived factor-1 (SDF-1)/CXC receptor 4 (CXCR4) axis plays an important role in tumor angiogenesis and invasiveness in colorectal cancer (CRC) progression. In addition, metastatic CRC remains one of the most difficult human malignancies to treat because of its chemoresistant behavior. However, the mechanism by which correlation occurs between CXCR4 and the clinical response of CRC to chemotherapy remains unknown. We generated chemoresistant cells with increasing doses of oxaliplatin (OXA) and 5-Fluorouracil (5FU) to develop resistance at a clinical dose. We found that the putative markers did not change in the parental cells, but HCT-116/OxR and HCT-116/5-FUR were more aggressive and had higher tumor growth (demonstrated by wound healing, chemotaxis assay, and a nude mice xenograft model) with the use of oxaliplatin. Apoptosis induced by oxaliplatin treatment was significantly decreased in HCT-116/OxR compared to the parental cells. Moreover, HCT-116/OxR cells displayed increased levels of p-gp, p-Akt p-ERK, p-IKBβ, CXCR4, and Bcl-2, but they also significantly inhibited the apoptotic pathways when compared to the parental strain. We evaluated the molecular mechanism governing the signaling pathway associated with anti-apoptosis activity and the aggressive status of chemoresistant cells. Experiments involving specific inhibitors demonstrated that the activation of the pathways associated with CXCR4, ERK1/2 mitogen-activated protein kinase (MAPK), and phosphatidylinositol 3-kinase (PI3K)/Akt is critical to the functioning of the HCT-116/OxR and HCT-116/5-FUR characteristics of chemosensitivity. These findings elucidate the mechanism of CXCR4/PI3K/Akt downstream signaling and provide strategies to inhibit CXCR4 mediated signaling pathway in order to overcome CRC's resistance to chemotherapy.
No MeSH data available.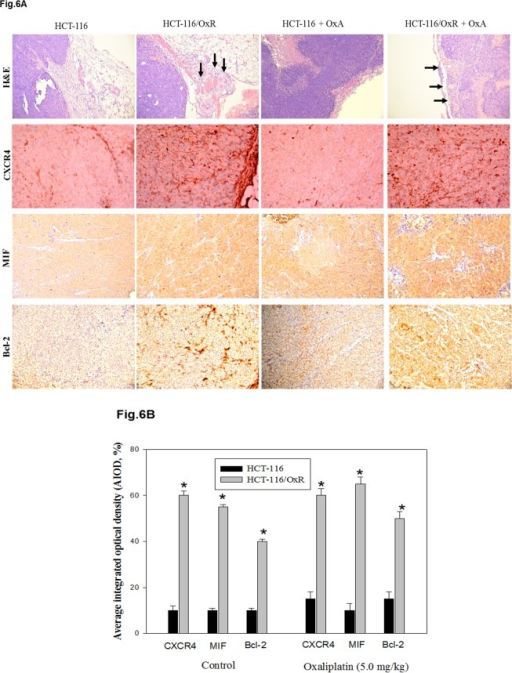 © Copyright Policy
License
getmorefigures.php?uid=PMC5036794&req=5
Mentions: To gain insight into the molecular mechanism by which CXCR4 is involved in the chemoresistance of CRC, we checked the expression of invasion and anti-apoptosis-related proteins. We observed significantly increased expression of CXCR4 and Bcl-2 as well as Akt, ERK1/2, and IκBβ phosphorylation in the HCT-116/OxR and HCT-116/5-FUR cell lines than human colonic epithelial cells (HCoEpiC), which are widely used as a model for human normal colon cells in studies of cell signaling and apoptosis (Fig 5A). By the way, this was examined to elucidate the mechanism of CXCR4-mediated PI3K/Akt and ERK1/2 signaling proliferation and anti-apoptosis activity. In both cell lines, HCT-116/OxR and HCT-116/5-FUR cells were incubated with the specific inhibitors of CXCR4 (AMD3100) for 1 h while downregulating Akt, ERK1/2, and IκBβ phosphorylation as well as CXCR4 and Bcl-2 expression (Fig 5B and 5C). HCT-116/5-FUR and HCT-116/OxR chemoresistant cells were mediated by CXCR4 mediated signaling pathway. Interestingly, recent studies have indicated the pivotal role of CXCL12/CXCR4 expression in tumor metastasis, showing that it is actively implicated in angiogenesis. In addition, previous study has shown that the macrophage migration-inhibitory factor (MIF), MIF-CXCR4 axis is important in drug resistant colon cancer cells as the critical autocrine CXCR4 ligand [28]. To investigate the in vivo role of chemoresistance in CXCR4-mediated tumor vascularization and existential expression, a basic study was conducted to evaluate the angiogenic factors reflected in the aggressiveness of tumor cells by H&E staining of tumor sections. As shown in Fig 6, photographs of tumor vascularization revealed that vessel numbers around HCT-116/OxR cells increased with or without OXA treatment in mice. We also investigated highly the immunochemical expression of CXCR4, MIF and Bcl-2 in HCT-116/OxR tumor sections. This has been validated by quantitative evaluation, showing protein intensity by the average integral optical density. The possible contribution of the MIF-CXCR4 axis in the proliferation of drug-resistant cells in the invasive phenotype of HCT-116/OxR cells will be determined further. Taken together, the results showed that CXCR4 expression in OXA-resistant cells is essential to involvement in PI3K/Akt and ERK1/2 signaling mediated cell death and metastasis.