Characteristics of Pos19 – A Small Coding RNA in the Oxidative Stress Response of Rhodobacter sphaeroides
ABSTRACT
---
The phototrophic bacterium Rhodobacter sphaeroides induces several small RNAs (sRNAs) when singlet oxygen (1O2) levels are elevated, a situation also referred to as photo-oxidative stress. An RNA-seq study identified the RSs0019 sRNA, which is renamed Pos19 (photo-oxidative stress induced sRNA 19). Pos19 is part of the RpoE regulon and consequently induced upon 1O2 and peroxide stress. The 219 nt long Pos19 transcript contains a small open reading frame (sORF) of 150 nt, which is translated in vivo. Over-expression of Pos19 results in reduced mRNA levels for several genes, of which numerous are involved in sulfur metabolism. The negative effect on the potential targets is maintained even when translation of the sORF is abolished, arguing that regulation is entailed by the sRNA itself. Reporter studies further revealed that regulation of the most affected mRNA, namely RSP_0557, by Pos19 is Hfq-dependent. Direct binding of Pos19 to Hfq was shown by co-immunoprecipitation. Physiological experiments indicated Pos19 to be involved in the balance of glutathione biosynthesis. Moreover, a lack of Pos19 leads to elevated reactive oxygen species levels. Taken together our data identify the sRNA Pos19 as a coding sRNA with a distinct expression pattern and potential role under oxidative stress in the phototrophic bacterium R. sphaeroides.
No MeSH data available.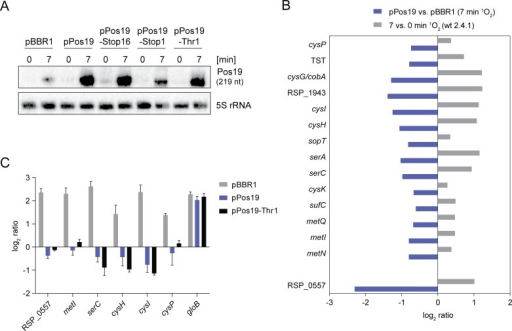 © Copyright Policy
License
getmorefigures.php?uid=PMC5036791&req=5
Mentions: To learn more about the function of Pos19, we constructed an over-expression strain. For this purpose, the pos19 gene together with its native RpoE-dependent promoter was inserted into the middle-copy plasmid pBBR1 (pPos19) and expressed in the R. sphaeroides wild-type background. The corresponding strain consequently exhibits a 1O2-induced Pos19 over-expression compared to an empty vector control strain (Fig 3A). Total RNA from the over-expression (pPos19) and empty vector control (pBBR1) strain was extracted after 7 min of 1O2 stress and used for microarray analysis to investigate Pos19-induced changes on transcriptome level. All mRNAs which showed an up- or down-regulation with a log2 ratio ≥ 1.0 or ≤ -1.0 are shown in Table 1. Among the up-regulated mRNAs we found fliC (flagellar filament protein), the cox operon (RSP_2876–79) and three genes for hypothetical proteins (RSP_2590, RSP_3469, and RSP_6085). Among the down-regulated mRNAs, RSP_0557 (encoding a hypothetical protein) was most strongly affected by Pos19 over-expression (Fig 3B). In addition, mRNAs from genes/operons with a function in serine (serC, serA) and sulfur metabolism (cysH, cysI, RSP_1943, cysG/cobA) showed decreased mRNA levels. Since serine can easily enter cysteine metabolism pathways we carefully re-inspected the microarray data for down-regulated mRNAs (log2 ratio ≤ -0.6) with a function in sulfur or cysteine metabolism (Fig 3B). In total, 30 genes were down-regulated with a log2 ratio ≤ -0.6, 14 of which had a direct or indirect function in sulfur metabolism (S1 Table). Besides the above-listed mRNAs from the cys operon (RSP_1944–39), which is involved in assimilatory sulfate reduction, we found cysP from the cysAPTW operon (RSP_3696–99), which encodes an ABC sulfate/thiosulfate transporter, to be down-regulated. Moreover, cysK (cysteine synthase), sopT (sulfate adenylyltransferase) and TST (Rhodanese-related sulfur transferase) were decreased in mRNA level (see S2 Fig for their particular functions in sulfur metabolism). Finally, the metNIQ operon, encoding an ABC D-methionine transporter, was down-regulated. This is of interest because methionine is a sulfur-containing amino acid. The microarray data for Pos19-affected mRNAs involved in sulfur metabolism and the most affected gene RSP_0557 were compared to microarray ratios calculated from experiments with R. sphaeroides wild-type 2.4.1 cultures before (0 min) and after 7 min of 1O2 stress (Fig 3B) [28]. Intriguingly, the mRNAs which are repressed upon Pos19 over-expression are slightly or clearly up-regulated under 1O2 stress in the wild-type background (Fig 3B). To exclude the possibility that changes observed in the Pos19 microarray were solely due to the action of the small peptide translated from the Pos19 transcript, we constructed over-expression strains for Pos19 containing sORF mutations that abrogate translation (Stop16, Stop1, Thr1; Fig 2A and 2B). Like pPos19, the pPos19 mutant constructs produced increased sRNA levels compared to the pBBR1 empty vector control (Fig 3A). We then monitored the induction of selected genes after 7 min of 1O2 stress in three strains by qRT-PCR (Fig 3C). The pBBR1 control strain revealed that RSP_0557 and five selected genes from sulfur metabolism (metI, serC, cysH, cysI and cysP) are induced upon 1O2 stress in R. sphaeroides. Since the control strain reflects the wild-type situation, this validated the microarray results shown in Fig 3B. When Pos19 was over-expressed the induction disappeared and mRNA levels remained unchanged or were even slightly reduced (Fig 3C). This was also the case when over-expressing Pos19 with the abolished sORF translation (Thr1; Fig 3C). As a control we monitored induction of gloB (RSP_0799), which is known to be induced upon 1O2 stress [9,12] and was not changed in the Pos19 microarray. As expected, induction was observed in all three strains (Fig 3C). From these experiments, we conclude that the effect of Pos19 on the selected genes is independent of the small peptide and displays a regulatory sRNA function. Surprisingly, mRNA levels of the selected genes were not further increased when deleting Pos19 and there was no significant difference compared to the wild-type (data not shown). Moreover, there was no effect when constitutively over-expressing Pos19 (pRK16S::Pos19) under non-stress conditions (data not shown).