Combined Use of Morphological and Molecular Tools to Resolve Species Mis-Identifications in the Bivalvia The Case of Glycymeris glycymeris and G . pilosa
ABSTRACT
---
Morphological and molecular tools were combined to resolve the misidentification between Glycymeris glycymeris and Glycymeris pilosa from Atlantic and Mediterranean populations. The ambiguous literature on the taxonomic status of these species requires this confirmation as a baseline to studies on their ecology and sclerochronology. We used classical and landmark-based morphometric approaches and performed bivariate and multivariate analyses to test for shell character interactions at the individual and population level. Both approaches generated complementary information. The former showed the shell width to length ratio and the valve asymmetry to be the main discriminant characters between Atlantic and Mediterranean populations. Additionally, the external microsculpture of additional and finer secondary ribs in G. glycymeris discriminates it from G. pilosa. Likewise, landmark-based geometric morphometrics revealed a stronger opisthogyrate beak and prosodetic ligament in G. pilosa than G. glycymeris. Our Bayesian and maximum likelihood phylogenetic analyses based on COI and ITS2 genes identified that G. glycymeris and G. pilosa form two separate monophyletic clades with mean interspecific divergence of 11% and 0.9% for COI and ITS2, respectively. The congruent patterns of morphometric analysis together with mitochondrial and nuclear phylogenetic reconstructions indicated the separation of the two coexisting species. The intraspecific divergence occurred during the Eocene and accelerated during the late Pliocene and Pleistocene. Glycymeris pilosa showed a high level of genetic diversity, appearing as a more robust species whose tolerance of environmental conditions allowed its expansion throughout the Mediterranean.
No MeSH data available.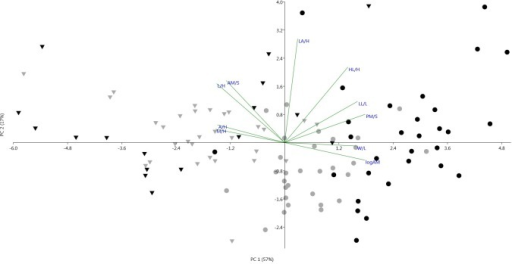 © Copyright Policy
License
getmorefigures.php?uid=PMC5036790&req=5
Mentions: Classical morphometric variables showed significant differences among populations (MANOVA, Wilk's Lambda test, F = 17.43, P < 0.001). As a result of bivariate analysis among all the 24 measured characters, the dataset to carry out PCA was reduced to those areas representing the umbo region, adductor muscles and shell dimensions contributing in a total of 10 ratios (W/L, L/H, A/H, HL/H, LA/H, LL/L, AM/S, PM/S, M/H, logAM). Linear regression analyses indicated the shell width to be highly correlated with the shell length in populations of G. pilosa (r > 0.94, p < 0.001, with a R2> 0.89) and somewhat less for G. glycymeris (r > 0.77, p < 0.001, with a R2 = 0.57). Geographically, Pag presented the most dispersed data. The height of the ligament to shell height showed a high correlation in all populations except Pašman (R2 > 0.66, p < 0.001 and R2 = 0.32, p < 0.05, respectively). Contrary, the shell length to shell height (R2 > 0.85, p < 0.001), the length of the ligamental area to shell height (R2 > 0.59, p < 0.001), anterior adductor muscle area to shell height (R2 > 0.61, p < 0.001) and the log of the adductor muscle (R2 > 0.82, p < 0.001) did not distinguish among populations. Asymmetry, marked major differences between Atlantic (R2 > 0.81, p < 0.001,) and Mediterranean (R2 < 0.08, p > 0.05) populations, where the later was the most asymmetric. UK appeared as the most symmetric population (R2 = 0.25, p > 0.05) and Pašman as the most asymmetric (R2 = 0.06, p > 0.05). The length of the ligament indicated a greater correlation to shell length for shells from Brest, UK and Pag (R2 > 0.86, p < 0.001), while data were a bit more dispersed for Pašman (R2 < 0.64, p < 0.001). The margin height (R2 > 0.51, p < 0.001) and the posterior adductor muscle area (R2 > 0.63, p < 0.001) showed a high correlation to shell height for Brest, UK and Pašman populations. Population in Pag appeared less correlated for these features (R2 = 0.16, p < 0.05 and R2 = 0.37, p < 0.001, respectively). The first Principal Component (PC 1) explained 57.4% of the variation (eigenvalue 5.74), weights on W/L, A/H, L/H, LL/L, PM/S, M/H and the logAM were highly positively. The weightings for PC 2 (eigenvalue 1.67) indicated LA/H and HL/L to be the most important, explaining a 16.7% of the variation (Fig 4).