Roles of the C-terminal residues of calmodulin in structure and function
ABSTRACT
---
Electrospray ionization mass spectrometry (ESI-MS), circular dichroism (CD), nuclear magnetic resonance (NMR) spectroscopy, flow dialysis, and bioactivity measurements were employed to investigate the roles of the C-terminal residues of calmodulin (CaM). In the present study, we prepared a series of truncated mutants of chicken CaM that lack four (CCMΔ4) to eight (CCMΔ8) residues at the C-terminal end. It was found that CCMΔ4, lacking the last four residues (M145 to K148), binds four Ca2+ ions. Further deletion gradually decreased the ability to bind the fourth Ca2+ ion, and CCMΔ8 completely lost the ability. Interestingly, both lobes of Ca2+-sturated CCMΔ5 showed instability in the conformation, although limited part in the C-lobe of Ca2+-saturated CCMΔ4 was instable. Moreover, unlike CCMΔ4, structure of the C-lobe in CCMΔ5 bound to the target displayed dissimilarity to that of CaM, suggesting that deletion of M144 changes the binding manner. Deletion of the last five residues (M144 to K148) and further truncation of the C-terminal region decreased apparent capacity for target activation. Little contribution of the last four residues including M145 was observed for structural stability, Ca2+-binding, and target activation. Although both M144 and M145 have been recognized as key residues for the function, the present data suggest that M144 is a more important residue to attain Ca2+ induced conformational change and to form a proper Ca2+-saturated conformation.
No MeSH data available.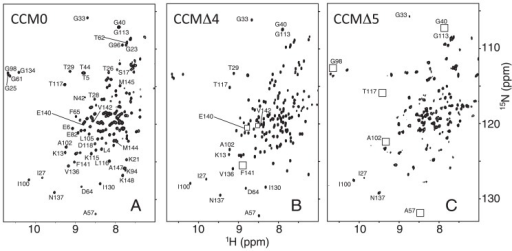 © Copyright Policy
getmorefigures.php?uid=PMC5036782&req=5
Mentions: The 1H-15N HSQC spectra of CaM and its variants in the presence of excess Ca2+ are shown in Figure 7. The samples were expected to be in Ca2+-saturated forms in this condition. The NMR spectra of all samples were changed by the addition of Ca2+. Therefore, the results clearly suggest that binding of Ca2+ to CCMΔ4 and CCMΔ5 induces conformational changes. The spectrum of Ca2+-bound CCMΔ4 was very close to that of Ca2+-bound CCM0. Thus, the four-residue truncation does not disturb the overall structure of CaM. Surprisingly, I130, V136, and N137, which belong to EF4, still resonated at proper chemical shifts. However, the residues, such as F141, which are located in the F-helix of EF4 in Ca2+-bound CCMΔ4, disappeared. The NMR data regarding EF4 in Ca2+-bound CCMΔ4 suggests that only the F-helix is destabilized. Unlike the residues forming EF4, all the residues forming EF3, for example, Ile100, Ala102, and G113 (Figure 7B) were observed at their proper chemical shifts. Unlike apo-form, the entire EF3 site keeps its native conformation in the Ca2+-bound CCMΔ4, indicating that the disorder in EF4 F-helix does not affect the structure of EF3. This finding is completely different to that observed for apo-CCMΔ4, suggesting that Ca2+ binding may enhance the structural stability of the C-lobe.