The mechanism of protein export enhancement by the SecDF membrane component
ABSTRACT
---
Protein transport across membranes is a fundamental and essential cellular activity in all organisms. In bacteria, protein export across the cytoplasmic membrane, driven by dynamic interplays between the protein-conducting SecYEG channel (Sec translocon) and the SecA ATPase, is enhanced by the proton motive force (PMF) and a membrane-integrated Sec component, SecDF. However, the structure and function of SecDF have remained unclear. We solved the first crystal structure of SecDF, consisting of a pseudo-symmetrical 12-helix transmembrane domain and two protruding periplasmic domains. Based on the structural features, we proposed that SecDF functions as a membrane-integrated chaperone, which drives protein movement without using the major energetic currency, ATP, but with remarkable cycles of conformational changes, powered by the proton gradient across the membrane. By a series of biochemical and biophysical approaches, several functionally important residues in the transmembrane region have been identified and our model of the SecDF function has been verified.
No MeSH data available.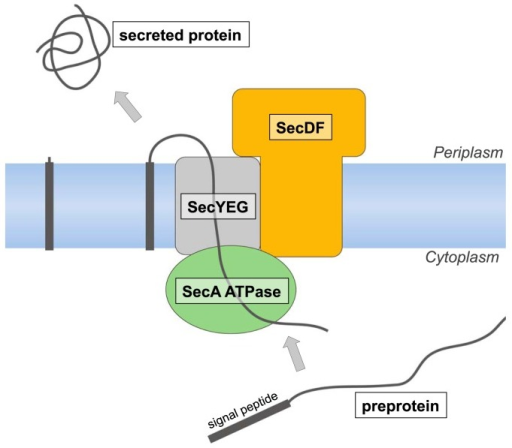 © Copyright Policy
getmorefigures.php?uid=PMC5036778&req=5
Mentions: Newly synthesized preproteins that contain a N-terminal cleavable signal peptide for secretion are targeted to the membrane and then translocated across it 1,2. The Sec translocon provides a channel-like pathway for protein translocation across membranes, which normally prevent even the permeation of small ions. The bacterial Sec translocon, consisting of three membrane proteins, SecY, SecE and SecG, is embedded within the cytoplasmic membrane and forms a protein-conducting channel to export proteins from the cytosol to the periplasmic space. In eukaryotic cells, the corresponding process across the ER membrane is achieved by the SecYEG-homolog Sec61αγβ machinery. To elucidate the molecular mechanism of the Sec translocon machinery, structural and functional studies of Sec proteins have been performed. Although there is an hourglass-shaped pathway in the center of SecY for protein transport3,4, the Sec translocon does not function by itself. SecYEG transiently interacts with SecA ATPase and SecDF (Fig. 1). All of the Sec proteins are considered to function through large conformational changes during protein translocation via the translocon. Synthesized preproteins, which are prevented from folding in the cytosol by a chaperone such as SecB, are directed to the membrane-bound SecA. Conformational changes of SecA, accompanied by ATP hydrolysis cycles, then achieve the insertion of the preprotein into the Sec translocon5,6. Using repeated ATP-induced conformational changes, SecA drives the stepwise protein secretion7. Although the protein translocation is enhanced by the PMF8–10 and SecDF11–17, the structure and role of SecDF have remained unclear. In this review, we describe the first 3D structure of SecDF and propose a new working model of the PMF-driven protein translocation by SecDF, based on its structural features and subsequent functional analyses18–20.