Using Fenton Oxidation to Simultaneously Remove Different Estrogens from Cow Manure
ABSTRACT
---
The presence of estrogens in livestock excrement has raised concerns about their potential negative influence on animals and the overall food cycle. This is the first investigation to simultaneously remove estrogens, including estriol (E3), bisphenol A (BPA), diethylstilbestrol (DES), estradiol (E2), and ethinyl estradiol (EE2), from cow manure using a Fenton oxidation technique. Based on the residual concentrations and removal efficiency of estrogens, the Fenton oxidation reaction conditions were optimized as follows: a H2O2 dosage of 2.56 mmol/g, a Fe(II) to H2O2 molar ratio of 0.125 M/M, a solid to water mass ratio of 2 g/mL, an initial pH of 3, and a reaction time of 24 h. Under these conditions, the simultaneous removal efficiencies of E3, BPA, DES, E2, and EE2, with initial concentrations in cow manure of 97.40, 96.54, 100.22, 95.01, and 72.49 mg/kg, were 84.9%, 99.5%, 99.1%, 97.8%, and 84.5%, respectively. We clarified the possible Fenton oxidation reaction mechanisms that governed the degradation of estrogens. We concluded that Fenton oxidation technique could be effective for efficient removal of estrogens in livestock excrement. Results are of great importance for cow manure reuse in agricultural management, and can be used to reduce the threat of environmental estrogens to human health and ecological safety.
No MeSH data available.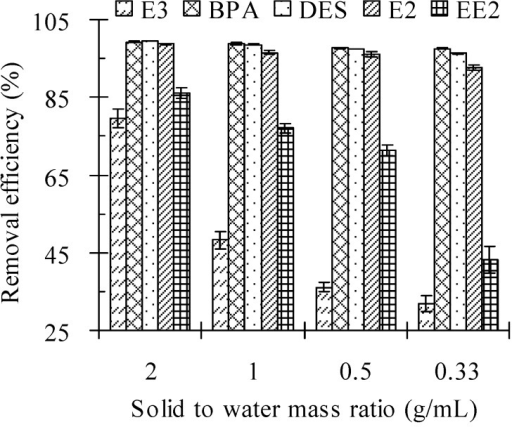 © Copyright Policy
License
getmorefigures.php?uid=PMC5036750&req=5
Mentions: The effect of the solid (cow manure) to water mass ratio on the removal of the five tested estrogens by Fenton oxidation is given in Table 4 and Figure 3. A smaller solid to water mass ratio resulted in a lower residual concentration and higher removal efficiency of test estrogens in cow manure. The residual concentrations of E3, BPA, DES, E2, and EE2 in cow manure after the Fenton oxidation process increased from 19.56, 0.38, 0.54, 0.81, and 11.12 mg/kg to 65.66, 2.05, 3.58, 4.54, and 41.84 mg/kg, respectively, with a decrease in the solid to water mass ratio from 2 to 0.33. The corresponding removal efficiency of E3, BPA, DES, E2, and EE2 decreased from 79.47%, 99.23%, 99.41%, 98.74%, and 85.97% to 31.92%, 97.52%, 96.32%, 92.59%, and 43.28%, respectively. E3 and EE2 are more difficult to oxidize than BPA, DES, and E2, with much lower removal efficiencies at the tested solid to water mass ratio.