Utilizing Chinese Admission Records for MACE Prediction of Acute Coronary Syndrome
ABSTRACT
---
Background: Clinical major adverse cardiovascular event (MACE) prediction of acute coronary syndrome (ACS) is important for a number of applications including physician decision support, quality of care assessment, and efficient healthcare service delivery on ACS patients. Admission records, as typical media to contain clinical information of patients at the early stage of their hospitalizations, provide significant potential to be explored for MACE prediction in a proactive manner. Methods: We propose a hybrid approach for MACE prediction by utilizing a large volume of admission records. Firstly, both a rule-based medical language processing method and a machine learning method (i.e., Conditional Random Fields (CRFs)) are developed to extract essential patient features from unstructured admission records. After that, state-of-the-art supervised machine learning algorithms are applied to construct MACE prediction models from data. Results: We comparatively evaluate the performance of the proposed approach on a real clinical dataset consisting of 2930 ACS patient samples collected from a Chinese hospital. Our best model achieved 72% AUC in MACE prediction. In comparison of the performance between our models and two well-known ACS risk score tools, i.e., GRACE and TIMI, our learned models obtain better performances with a significant margin. Conclusions: Experimental results reveal that our approach can obtain competitive performance in MACE prediction. The comparison of classifiers indicates the proposed approach has a competitive generality with datasets extracted by different feature extraction methods. Furthermore, our MACE prediction model obtained a significant improvement by comparison with both GRACE and TIMI. It indicates that using admission records can effectively provide MACE prediction service for ACS patients at the early stage of their hospitalizations.
No MeSH data available.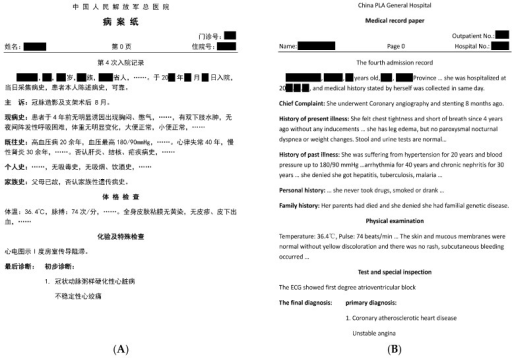 © Copyright Policy
License
getmorefigures.php?uid=PMC5036745&req=5
Mentions: Recently, with the rapid development of hospital information systems, a large volume of electronic health records (EHRs) has become available, which offers the opportunity to alleviate the aforementioned limitations for MACE prediction of ACS patients [12,13,14]. In particular, admission records, as an important type of EHRs, contain a wealth of information to describe patient conditions at the early stage of length of stay (LOS), and thus can be utilized for MACE prediction in a proactive manner [13]. Figure 1 shows a de-identified sample of admission records collected from a Chinese hospital. It contains valuable patient information like demographics, medical history, physical examination results, lab test and specific inspection, etc. In addition, the first primary diagnosis and common comorbidities of the patient are given at the end of the admission record. In clinical practice, physicians often refer to the admission record of an ACS patient to determine his/her clinical risk. In this sense, it is possible to utilize admission records, study medical cases, extract significant ACS risk factors, and exploit these for helping physicians predict MACE for patients at the early stage of their hospitalizations, so as to make the practice better for the care of individual patients [15,16,17].