Public Health Adaptation to Climate Change in OECD Countries
ABSTRACT
---
Climate change is a major challenge facing public health. National governments play a key role in public health adaptation to climate change, but there are competing views on what responsibilities and obligations this will—or should—include in different nations. This study aims to: (1) examine how national-level public health adaptation is occurring in Organization for Economic Cooperation and Development (OECD) countries; (2) examine the roles national governments are taking in public health adaptation; and (3) critically appraise three key governance dimensions of national-level health adaptation—cross-sectoral collaboration, vertical coordination and national health adaptation planning—and identify practical examples suited to different contexts. We systematically reviewed publicly available public health adaptation to climate change documents and webpages by national governments in ten OECD countries using systematic web searches, assessment of self-reporting, and content analysis. Our findings suggest national governments are primarily addressing infectious disease and heat-related risks posed by climate change, typically emphasizing capacity building or information-based groundwork initiatives. We find national governments are taking a variety of approaches to public health adaptation to climate change that do not follow expected convergence and divergence by governance structure. We discuss practical options for incorporating cross-sectoral collaboration, vertical coordination and national health adaptation planning into a variety of contexts and identify leaders national governments can look to to inform their public health adaptation planning. Following the adoption of the Paris Agreement and subsequent increased momentum for adaptation, research tracking adaptation is needed to define what health adaptation looks like in practice, reveal insights that can be taken up across states and sectors, and ensure policy orientated learning.
No MeSH data available.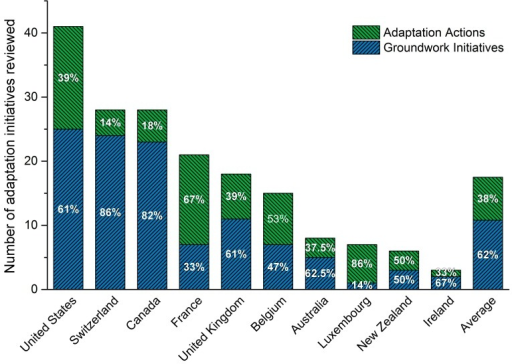 © Copyright Policy
License
getmorefigures.php?uid=PMC5036722&req=5
Mentions: National government adaptation initiatives were, averaging across countries, 62% groundwork and 38% adaptation actions (Figure 2). The exceptions are France, Belgium and Luxembourg, which report planning or implementing >50% adaptation actions each. Meanwhile, most countries reporting >10 initiatives are planning or implementing some combination of all five adaptation types (Figure 3). In Canada and the UK, capacity building initiatives dominate, and are predominantly guidebooks, frameworks or toolkits, while in the US these initiatives are a combination of training and professional education, guidebooks, frameworks or toolkits, and dissemination. France and Belgium report implementing or planning the highest number of practice and behaviour initiatives, including initiatives to adapt the techniques used in building health facilities (France) and eradicate the Aedes japonicus mosquito vector (Belgium). See Table 1 and Table S4 of Supplementary Materials for further examples of each adaptation type. Countries of contrasting administrative structure (federal and decentralized, or unitary and centralized) (Table 2) report similar adaptation approaches. The UK and the US, for example, report similar groundwork vs. adaptation initiatives (Figure 2) despite greater centralization in the UK. Likewise, Belgium and France show similarity in adaptation types being planned or implemented (Figure 1), despite contrasting administrative structures. Indeed, some of the sampled countries with federal, decentralized administrative structures are taking central roles in coordinating adaptation across jurisdictional levels, such as Belgium and Switzerland, through legislation and coordinated adaptation planning.