Processivity of kinesin motility is enhanced on increasing temperature
ABSTRACT
---
Kinesin is a motor protein that processively moves step by step along a microtubule. To investigate the effects of temperature on run length, i.e., processivity of kinesin motility, we performed a single-molecular bead assay at temperature range of 20–40°C. An increase in the walking velocity of kinesin corresponded to the Arrhenius activation enthalpy of 48 kJ/mol, being consistent with the previous reports. Here, we found that the run length increased, that is, the kinesin processivity enhanced with increasing temperature. Then, we estimated the probability of detachment of kinesin from a microtubule per one 8-nm stepping event, and found that it diminishes from 0.014 to 0.006/step with increasing temperature from 20 to 40°C. And we noticed that prolonged incubation at 30, 35 and 40°C significantly slowed down the walking velocity, but further increased the run length and duration. Those results are interpreted according to the effect of temperature on the rate constants of some key kinetic steps in the ATPase cycle.
No MeSH data available.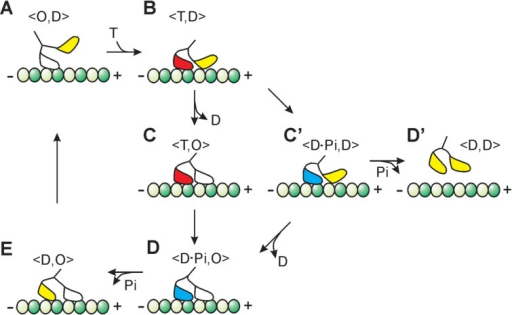 © Copyright Policy
getmorefigures.php?uid=PMC5036643&req=5
Mentions: Thus, another possible and more plausible reason for the higher processivity at the elevated temperatures will be as follows. Let us consider the kinetic scheme of kinesin motility based on a simple hand-over-hand model as schematically shown in Fig. 78,11,23,25,28. During processive run of 8 nm steps, kinesin successively adopts a single-headed strongly bound <O, D> state (A in Fig. 7), the <T, D> state at which the trailing head is strongly bound and the leading head is weakly bound or detached (B in Fig. 7), double-headed strongly bound <T, O> and <D·Pi, O> states (C and D in Fig. 7, respectively) and the <D, O> state at which the leading head is strongly bound and the trailing head is weakly bound (E in Fig. 7). In this scheme, the spontaneous detachment of kinesin is assumed to occur in the <D, D> state (D′ in Fig. 7), which is occasionally formed after passing through the <D·Pi, D> state (C′ in Fig. 7). It is to be noted that the D·Pi state may be a weakly bound state as well11,25,29,30. Because every step occurs stochastically, the detachment of kinesin is plausible even if the rate constants of the B→C and C′→D steps are much higher than those of the B→C′ and C′→D′ steps, respectively.