Analyzing observed or hidden heterogeneity on survival and mortality in an isogenic C. elegans cohort
ABSTRACT
---
It is generally difficult to understand the rates of human mortality from biological and biophysical standpoints because there are no cohorts or genetic homogeneity; in addition, information is limited regarding the various causes of death, such as the types of accidents and diseases. Despite such complexity, Gompertz's rule is useful in humans. Thus, to characterize the rates of mortality from a demographic viewpoint, it would be interesting to research a single disease in one of the simplest organisms, the nematode C. elegans, which dies naturally under identically controlled circumstances without predators. Here, we report an example of the fact that heterogeneity on survival and mortality is observed through a single disease in a cohort of 100% genetically identical (isogenic) nematodes. Under the observed heterogeneity, we show that the diffusion theory, as a biophysical model, can precisely analyze the heterogeneity and conveniently estimate the degree of penetrance of a lifespan gene from the biodemographic data. In addition, we indicate that heterogeneity models are effective for the present heterogeneous data.
No MeSH data available.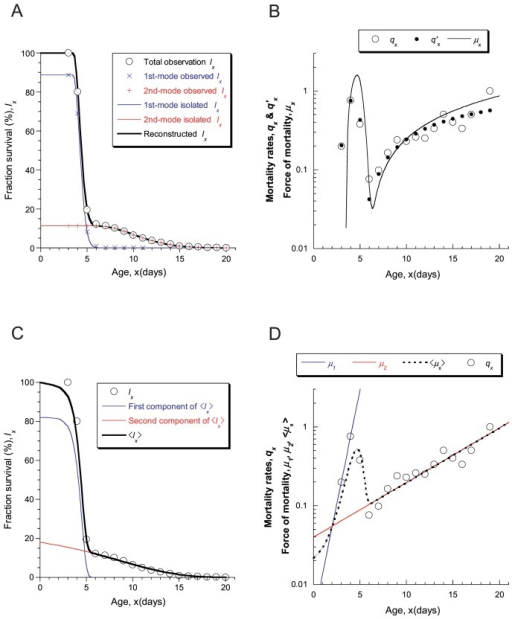 © Copyright Policy
getmorefigures.php?uid=PMC5036638&req=5
Mentions: The entire survival curve, lx, of egl-1 mutants at 25°C indicates a two-step-like shape (Fig. 1A). Indeed, we observed that about 90% of the population quickly died due to internal hatching of larvae or disease from day 3 to day 6 and the remainder died gradually of natural causes after day 6. The maximum lifespan was twenty days. The original survival curve could be clearly separated into two components after analyzing with the extended equation for lifespan, Eq. 5, and the addition of more components did not result in a better fit. At this time, the non-linear least-squares fitting method was used to statistically fit the equation of lifespan to the experimental values. Each theoretically isolated component, i.e., the first and the second modes, fitted each experimental component quite well (Fig. 1A). In this case, the first and second modes corresponded to the subcohorts of disease and aging, respectively. In addition, the reconstructed curve from the two separated modes highly correlated with the entire original survival data (correlation coefficient 0.999; data not shown). The frequency, l01, of the first mode represents the degree of penetrance of the egl-1 gene. The reduced value is l01/100=0.888, which is fully consistent with the observed value (482/543=0.888), where the number of animals that died from disease and aging was 482 and 61, respectively. The z-value of the first and second modes was 0.98 and 5.70, respectively.