The forward and backward stepping processes of kinesin are gated by ATP binding
ABSTRACT
---
The kinesin motor converts the chemical energy from ATP turnover into mechanical work, which produces successive 8-nm steps in the forward and backward direction along a microtubule. A key problem for kinesin mechanochemistry is explaining how ATP turnover is coordinated with mechanical work. We investigated this by measuring the ATP dependent properties of kinesin forward and backward steps using optical trapping nanometry. The results showed that the rate for both forward and backward steps are ATP-dependent, indicating that ATP binding to kinesin triggers both forward and backward steps. This suggests that ATP turnover in kinesin is not rigidly coupled to total mechanical work at high load.
No MeSH data available.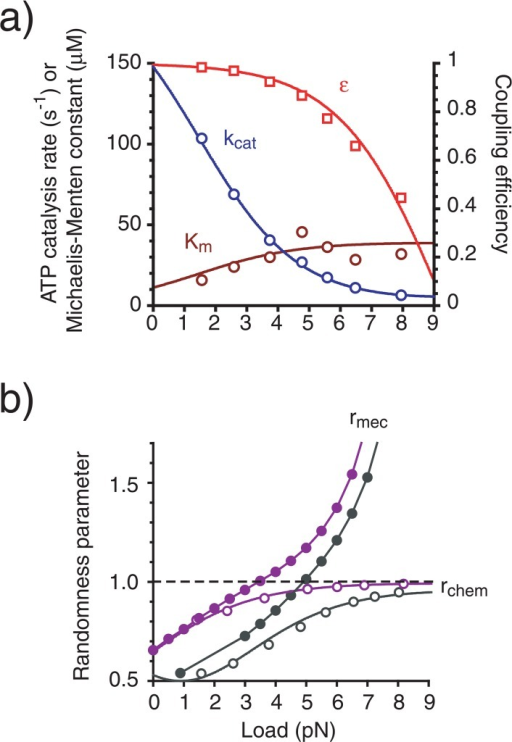 © Copyright Policy
getmorefigures.php?uid=PMC5036606&req=5
Mentions: Previous ensemble ATPase studies have shown that the ATP turnover reaction to kinesin at zero load obeys Michaelis-Menten kinetics7,8, which is described by: 1/k0=1/k0cat + K0M/k0cat/[ATP], where k0 is the total ATPase reaction rate, k0cat and K0M are the ATP catalysis rate and the Michaelis-Menten constant, respectively, and the superscript 0 denotes "zero load". Our results describe k0 by using the rate constants for forward steps (kf), backward steps (kb), detachments (kd) and biochemical reactions (kc) as follows,(2)1k0([ATP])=1kc+1kf0([ATP])+kb0([ATP])+kd0([ATP])Furthermore, k0cat and K0M are given by: k0cat= k0([ATPsat]) and K0M= [ATPlim](k0([ATPsat])/k0([ATPlim])− 1) (ref. 9). In addition, the equivalency in the ATP binding between forward steps, backward steps and detachments is represented by the relationship:(3)kf0([ATPsat])kf0([ATP])=kb0([ATPsat])kb0([ATP])=kd0([ATPsat])kd0([ATP])=c([ATP]),where c([ATP]) is a constant. Equations (2) and (3) can be transformed into: c=1+K0M/(1 – k0cat/kc)/[ATP], indicating that k0f, k0b and k0d all obey Michalis-Menten kinetics with a common Michaelis-Menten constant, K0M′ = K0M/(1 – k0cat/kc). Further introducing this equation into the rate of reaction at a given load, k(F), defined by: 1/k=1/kc + 1/(kf exp(−Fdf/kBT) +kb exp(−Fdb/kBT) + kd exp(−Fdd/kBT)), the rate of reaction can then be transformed into Michaelis-Menten form, indicating the above two relationships assure the formation of Michaelis-Menten kinetics even in loaded conditions. This conclusion is consistent with a previous observation15. The ATP catalysis rate, kcat(F), and the Michaelis-Menten constant, KM(F), at a given load are defined as:(4)kcat(F)=[1kc+1∑ζf,b,dkζ0([ATPsat])exp(FdζkBT)]−1(5)KM(F)=K0M′[1−11+kc∑ζf,b,dkζ0([ATPsat])exp(−FdζkBT)].We plotted these parameters as a function of load (Fig. 4a). The ATP catalysis rate decreased exponentially as load increased, whereas the Michaelis-Menten constant increased slightly.