Identifying module biomarkers from gastric cancer by differential correlation network
ABSTRACT
---
Gastric cancer (stomach cancer) is a severe disease caused by dysregulation of many functionally correlated genes or pathways instead of the mutation of individual genes. Systematic identification of gastric cancer biomarkers can provide insights into the mechanisms underlying this deadly disease and help in the development of new drugs. In this paper, we present a novel network-based approach to predict module biomarkers of gastric cancer that can effectively distinguish the disease from normal samples. Specifically, by assuming that gastric cancer has mainly resulted from dysfunction of biomolecular networks rather than individual genes in an organism, the genes in the module biomarkers are potentially related to gastric cancer. Finally, we identified a module biomarker with 27 genes, and by comparing the module biomarker with known gastric cancer biomarkers, we found that our module biomarker exhibited a greater ability to diagnose the samples with gastric cancer.
No MeSH data available.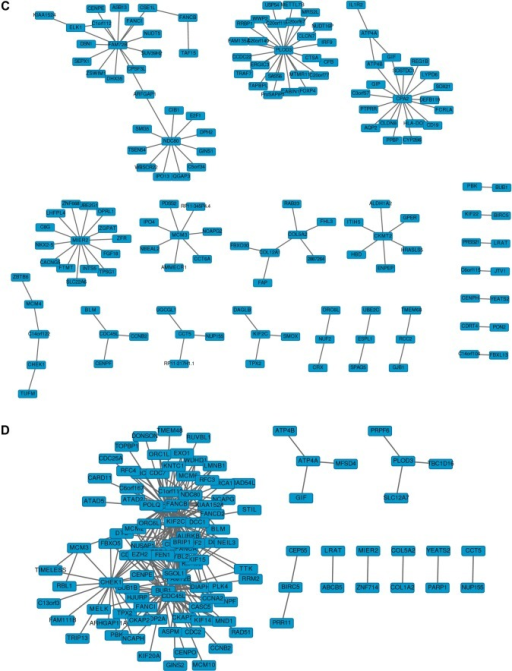 © Copyright Policy
License 1 - License 2


getmorefigures.php?uid=PMC5036598&req=5

Mentions: Figure 1 shows the flowchart of our method. All samples were separated into three phases according to their descriptions (Table 1). The normal- and cancer-specific correlation networks were constructed in each phase based on the gene expression data and human correlation network (the details can be found in Materials and methods), respectively, where the common edges between the normal and cancer networks were removed. The differential network was obtained by merging the normal-specific and cancer-specific networks in the corresponding phase, which included the edges that occurred only in normal- or cancer-specific networks. As a result, only those genes that have edges in the differential network and are differentially expressed in both normal and cancer samples are regarded as potential gastric cancer genes in every phase. Furthermore, the differentially expressed genes between normal and cancer status were used to filter the genes in the differential network, because the differentially expressed genes showed greater ability for distinguishing the phenotype. Finally, the genes that occurred in all three phases were treated as our final predicted gastric cancer biomarker genes. In this study, 27 genes were predicted as gastric cancer biomarker genes. These 27 gastric cancer biomarker genes appear in every phase of gastric cancer but interact with different partners (Figure 3). The simple functional analysis of these biomarker genes in PANTHER database was shown to be associated with the cellular, metabolic, and developmental processes (Figure 4). Furthermore, the function annotations were conducted for the candidate biomarker genes by further analysis of DAVID database13 (Table 2). From gene functions, we could see that some of the candidate biomarker genes had been reported to play an important role in tumorigenesis. For example, MCM3, which encodes one of mini-chromosome maintenance proteins and is involved in the initiation of genome replication, is involved in gastric, lung, and kidney cancers,14 and CHK1, which encodes a Ser/Thr protein kinase and works for checkpoint-mediated cell cycle arrest, is involved in breast 15 and ovarian cancers.16 The functional enrichments of the module biomarkers were involved in mitosis and cell cycle phase (Table 3) according to gene ontology analysis in two web services Gene Ontology Consortium (http://geneontology.org/page/go-enrichment-analysis) and g:Profiler (http://biit.cs.ut.ee/gprofiler/), and the major functions in which the module biomarkers were involved were associated with cancer processes.