The spice for joint inflammation: anti-inflammatory role of curcumin in treating osteoarthritis
ABSTRACT
---
Osteoarthritis is a degenerative disease of the joint affecting aging populations worldwide. It has an underlying inflammatory cause, which contributes to the loss of chondrocytes, leading to diminished cartilage layer at the affected joints. Compounds with anti-inflammatory properties are potential treatment agents for osteoarthritis. Curcumin derived from Curcuma species is an anti-inflammatory compound as such. This review aims to summarize the antiosteoarthritic effects of curcumin derived from clinical and preclinical studies. Many clinical trials have been conducted to determine the effectiveness of curcumin in osteoarthritic patients. Extracts of Curcuma species, curcuminoids and enhanced curcumin, were used in these studies. Patients with osteoarthritis showed improvement in pain, physical function, and quality of life after taking curcumin. They also reported reduced concomitant usage of analgesics and side effects during treatment. In vitro studies demonstrated that curcumin could prevent the apoptosis of chondrocytes, suppress the release of proteoglycans and metal metalloproteases and expression of cyclooxygenase, prostaglandin E-2, and inflammatory cytokines in chondrocytes. These were achieved by blocking the activation of nuclear factor kappa-light-chain-enhancer of activated B cells (NF-κB) system in the chondrocytes, by preventing the activation of nuclear factor of kappa light polypeptide gene enhancer in B-cells inhibitor, alpha, phosphorylation, and translocation of the p65 subunit of NF-κB complexes into the nucleus. In conclusion, curcumin is a potential candidate for the treatment of osteoarthritis. More well-planned randomized control trials and enhanced curcumin formulation are required to justify the use of curcumin in treating osteoarthritis.
No MeSH data available.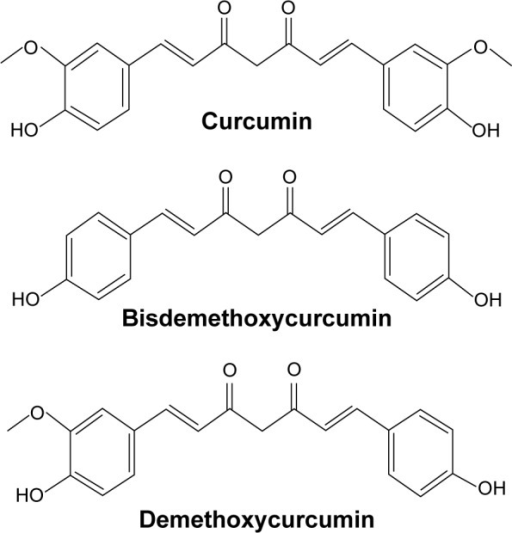 © Copyright Policy
License 1 - License 2


getmorefigures.php?uid=PMC5036591&req=5

Mentions: One of the potential antiosteoarthritic agents under limelight is curcumin. Curcumin is derived from turmeric, a popular spice used in India, South Asia, and Japan, which is the grounded root and rhizome of the plant Curcuma longa. In traditional Indian medicine, turmeric is used to treat biliary digestive disorder, wounds, and rheumatic diseases. Besides other macro- and micronutrients, the extract of turmeric contains 77% curcumin, 17% demethoxycurcumin, and 3% bisdemethoxycurcumin, collectively named curcuminoids, which render turmeric its distinct yellowish hue (Figure 1).20,21 Curcumin possesses both anti-inflammatory and antioxidative activities. Curcumin has been shown to suppress the activation of IKB (inhibitor of nuclear factor kappa-light-chain-enhancer of activated B cells [NF-κB]) kinase (IKK) and the phosphorylation of AKT and the association between the two signaling molecules induced by IL-1β.22 In turn, this results in the inhibition of phosphorylation and degradation of nuclear factor of kappa light polypeptide gene enhancer in B-cells inhibitor, alpha (IKBα), the endogenous blocker of NF-κB.22 Therefore, curcumin is able to inhibit translocation of NF-κB into the nucleus, thus preventing the inflammation response of the cells.22 Curcumin also prevents the decrease of Bcl-2 and Bcl-XL expressions and the increase of Bax and caspase-3 expressions stimulated by IL-1β.22,23 Decrease of Bcl-2/Bax and Bcl-XL/Bad ratio is associated with the loss of mitochondrial membrane potential.23 It also suppresses the phosphorylation of p38 and c-Jun N-terminal kinases (JNK), and increase expression of ERK and AKT serving as prosurvival signal, thereby inhibiting apoptosis.23 On the other hand, curcumin increases the phosphorylation and DNA binding activity of nuclear factor erythroid 2-related factor 2 to antioxidant response element,24,25 besides acting as free radical scavenger itself.26 These translated to reduced inflammation and oxidative stress in experimental animals and humans supplemented with curcumin.27–31 This preliminary evidence justifies the potential of curcumin as an antiosteoarthritic agent.