Multidisciplinary rehabilitation for patients with cerebral palsy: improving long-term care
ABSTRACT
---
Cerebral palsy (CP) is one of the most frequent causes of child disability in developed countries. Children with CP need lifelong assistance and care. The current prevalence of CP in industrialized countries ranges from 1.5 to 2.5 per 1,000 live births, with one new case every 500 live births. Children with CP have an almost normal life expectancy and mortality is very low. Despite the low mortality rate, 5%–10% of them die during childhood, especially when the severe motor disability is comorbid with epilepsy and severe intellectual disability. Given this life expectancy, children with CP present with a lifelong disability of varying severity and complexity, which requires individualized pathways of care. There are no specific treatments that can remediate the brain damage responsible for the complex clinical–functional dysfunctions typical of CP. There are, however, a number of interventions (eg, neurorehabilitation, functional orthopedic surgery, medication, etc) aimed at limiting the damage secondary to the brain insult and improving these patients' activity level and participation and, therefore, their quality of life. The extreme variability of clinical aspects and the complexity of affected functions determine a multifaceted skill development in children with CP. There is a need to provide them with long-term care, taking into account medical and social aspects as well as rehabilitation, education, and assistance. This long-term care must be suited according to children's developmental stage and their physical, psychological, and social development within their life contexts. This impacts heavily on the national health systems which must set up a network of services for children with CP, and it also impacts heavily on the family as a whole, due to the resulting distress, adjustment efforts, and changes in quality of life. This contribution is a narrative review of the current literature on long-term care for children with CP, aiming at suggesting reflections to improve these children's care.
No MeSH data available.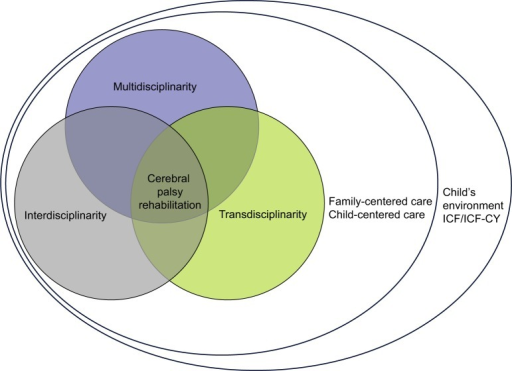 © Copyright Policy
License 1 - License 2


getmorefigures.php?uid=PMC5036581&req=5

Mentions: Multidisciplinary rehabilitation is now considered the key approach in rehabilitation and health care paradigms. Also, if this is generally true, it is of fundamental importance in the rehabilitation of CP. CP rehabilitation is a complex process aiming at ensuring children and their families the best possible quality of life. By acting both directly and indirectly, CP rehabilitation considers the individual under all physical, mental, emotional, communicative, and relational aspects (holistic feature) and involves their familial, social, and environmental context (ecological feature) too. Rehabilitation consists of a number of integrated interventions in the fields of remediation, education, and care.25 This holistic and ecological approach is supported by the World Health Organization's ICF. The adult version of the ICF, published in 2001, and the child and adolescent version (ICF-CY), published in 2007, are biopsychosocial models which are increasingly being recognized as an efficacious tool to describe health and disability and a framework for planning and monitoring rehabilitation interventions over time.20,21 The ICF and the ICF-CY classify the outcome of a condition (disorder or illness) in terms of body functions/structures, activity level, and participation, underlying the need for a global pathway of care through the involvement of many stakeholders and moving from a multidisciplinary perspective only to an integrated multi-, inter-, and transdisciplinary perspective. The ICF is a sort of common language guiding this approach. Many published studies stress the importance of implementation of the ICF in the global management of pathways of care in CP.26,27 While multidisciplinarity in CP rehabilitation relies on practitioners' knowledge from various disciplines (neurologist, physiatrist, ophthalmologist, pediatrician, psychologist, speech therapists, educator, etc), each operating within their own field of competence, interdisciplinarity integrates, subsumes, and harmonizes the connections between the different disciplines in a coordinated and consistent manner to support the development of a life project for children with CP.26 However, according to the biopsychosocial model underlying the ICF, the added value of this approach is transdisciplinarity, namely, a perspective integrating the natural, social, and health sciences in a humanities context, and in so doing, enabling each to transcend their traditional boundaries.28 But the actual value of transdisciplinarity is its going over and above multi- and interdisciplinary models, as it acts as a common thread for people from different disciplines who collaborate toward a common goal and, in order to achieve it, develop a common framework. Transdisciplinarity combines multi- and interdisciplinarity with a participative approach, is able to generate new knowledge, and sets a holistic approach to CP rehabilitation in which all stakeholders set aside their own specific perspectives to embrace a global one that is respectful of all individual instances and make a better contribution to optimal long-term care of children with CP (Figure 1).