Controlled release of TGF-beta 1 from RADA self-assembling peptide hydrogel scaffolds
ABSTRACT
---
Bioactive mediators, cytokines, and chemokines have an important role in regulating and optimizing the synergistic action of materials, cells, and cellular microenvironments for tissue engineering. RADA self-assembling peptide hydrogels have been proved to have an excellent ability to promote cell proliferation, wound healing, tissue repair, and drug delivery. Here, we report that D-RADA16 and L-RADA16-RGD self-assembling peptides can form stable second structure and hydrogel scaffolds, affording the slow release of growth factor (transforming growth factor cytokine-beta 1 [TGF-beta 1]). In vitro tests demonstrated that the plateau release amount can be obtained till 72 hours. Moreover, L-RADA16, D-RADA16, and L-RADA16-RGD self-assembling peptide hydrogels containing TGF-beta 1 were used for 3D cell culture of bone mesenchymal stem cells of rats for 2 weeks. The results revealed that these three RADA16 peptide hydrogels had a significantly favorable influence on proliferation of bone mesenchymal stem cells and hold some promise in slow and sustained release of growth factor.
No MeSH data available.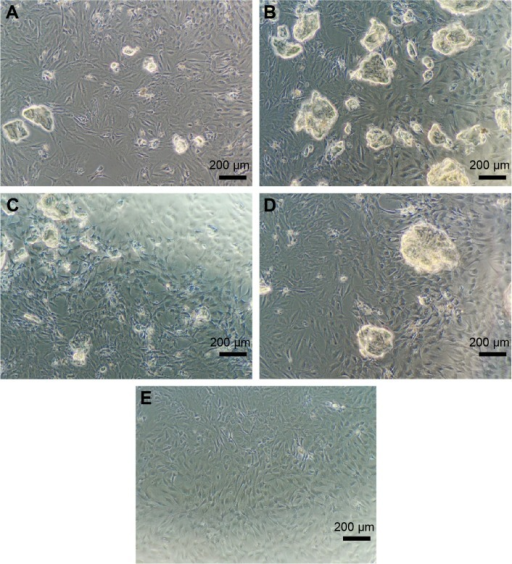 © Copyright Policy
License 1 - License 2


getmorefigures.php?uid=PMC5036568&req=5

Mentions: Self-assembling peptide hydrogels are composed of amino acids, which have the function of biological recognition and good compatibility. RADA16 self-assembling peptide hydrogel can highly simulate the extracellular matrix and form suitable microenvironment for cell growth and functional protein action. During the release process, protein structure and bioactivity are maintained. TGF-beta 1 can promote the proliferation of mesenchymal stem cells.19,20 In Figure 6, all experiment groups had better cell proliferation than the control group. Besides, cell proliferation on the L-RADA16 + TGF-beta 1 group was significantly better than that on the L-RADA16 group, indicating the promotion of released TGF-beta 1 to proliferation of mesenchymal stem cells. In Figures 4 and 5, the release rate and release amount of TGF-beta 1 of L-RADA16 + TGF-beta 1 group were higher compared with those of the D-RADA16 + TGF-beta 1 group on 7 days. Previous studies showed that D-form self-assembling peptide hydrogels had the ability of being resistant to natural proteases degradation and promoting cell proliferation, which were beneficial to tissue regeneration and repair.10,27 The L-RADA16 + TGF-beta 1 group also showed a better effect on cell proliferation than that in the L-RADA16-RGD + TGF-beta 1 group. But the effect of L-RADA16-RGD on promoting cell differentiation, migration, and adhesion is greater than that of L-RADA16.28–32 These results indicated that the sustained release of TGF-beta 1 from L-RADA16 hydrogel had better promotion to cell proliferation than L-RADA16-RGD hydrogel, which was consistent with the release profiles of TGF-beta 1 from peptide hydrogel. In Figure 7, compared with the control group, BMSC in RADA16 peptide hydrogel showed no obvious change in morphology, cell apoptosis, and degenerescence, which also demonstrated that the RADA16 peptide hydrogels were atoxic and safe for cells. Thus, RADA16 hydrogel can be used as an ideal tissue engineering material for the regeneration and repair of tissues or organs.