A case report and literature review of primary resistant Hodgkin lymphoma: a response to anti-PD-1 after failure of autologous stem cell transplantation and brentuximab vedotin
ABSTRACT
---
Hodgkin lymphoma (HL) is a highly curable hematologic malignancy, and ~70% of cases can be cured with combination chemotherapy with or without radiation. However, patients with primary resistant disease have a cure rate of <30%. For such patients, high-dose chemotherapy followed by autologous stem cell transplantation (ASCT) is considered to be the standard treatment. If patients fail to respond to ASCT or relapse soon thereafter, they usually receive another ASCT, allogeneic stem cell transplantation or treatment with novel agents. This case report presents the case of a 54-year-old patient with primary resistant HL who received single-agent treatment, brentuximab vedotin, after ASCT relapse. Despite treatment with brentuximab vedotin, the disease continued to progress. In patients with such highly resistant disease, the treatment options are limited. Depending on the physical condition and the willingness of the patient, pembrolizumab, a programmed cell death protein-1 inhibitor, can be given as salvage therapy. But, out of our expectation, the patient achieved a very good partial response after four cycles of pembrolizumab. No serious adverse events were observed with pembrolizumab treatment. This case provides support for a new and effective strategy for treating primary resistant Hodgkin lymphoma.
No MeSH data available.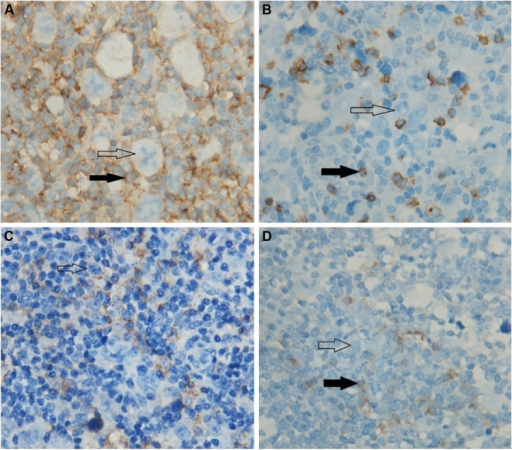 © Copyright Policy
License 1 - License 2


getmorefigures.php?uid=PMC5036553&req=5

Mentions: Tumor infiltrating lymphocyte (TIL) is known as the lymphocyte around the tumor cells. Because of the close contact with tumor cells, TIL is considered as the specific and direct response of antitumor immunity. A large number of the TILs with normal function symbolize the strong antitumor activity of the host. However, in fact, most of these TILs are immunosuppressive and anergic induced by various cytokines and chemokines secreted by tumor cells. Malignant cells express the PD-1 ligands to bind PD-1 which is expressed on the surface of various immune cells, to downstream kinase signaling inhibition including the PI3K pathway, and ultimately suppression of immune cells function in the tumor microenvironment.10 In solid tumors, TIL mainly consists of CD8+ T cells which play a significant role in antitumor immunity.18 However, in this patient, the TIL is mainly composed of CD4+ T cells which are known as regulatory T cells and suppress the function of cytotoxic T cells. With interspersed CD8+ T cells as the background infiltrate cells, malignant Hodgkin Reed–Sternberg cells are surrounded by these CD4+ T cells (Figure 6). Recently, several vital clinical trials17,19,20 demonstrate whether expression and the level of PD-L1 in tumor cells are considered as the potential predictive factors for the treatment response to PD-1 inhibitors. For this patient, in the initial involved lymph node, ~40% of HL cells and 15% surrounding CD4+ T cells express PD-L1, but the background cells do not express. Therefore, the patient's antitumor immunity strengthened dramatically by blocking the PD-1 signaling pathway when treated with pembrolizumab. As previously mentioned, the levels of CD8+ T cells rapidly increased after treatment with pembrolizumab and stayed at a high level during the treatment.