Nine traditional Chinese herbal formulas for the treatment of depression: an ethnopharmacology, phytochemistry, and pharmacology review
ABSTRACT
---
Depression is a major mental disorder, and is currently recognized as the second-leading cause of disability worldwide. However, the therapeutic effect of antidepressants remains unsatisfactory. For centuries, Chinese herbal formulas (CHFs) have been widely used in the treatment of depression, achieving better therapeutic effects than placebo and having fewer side effects than conventional antidepressants. Here, we review the ethnopharmacology, phytochemistry, and pharmacology studies of nine common CHFs: "banxia houpo" decoction, "chaihu shugansan", "ganmaidazao" decoction, "kaixinsan", "shuganjieyu" capsules, "sinisan", "wuling" capsules, "xiaoyaosan", and "yueju". Eight clinical trials and seven meta-analyses have supported the theory that CHFs are effective treatments for depression, decreasing Hamilton Depression Scale scores and showing few adverse effects. Evidence from 75 preclinical studies has also elucidated the multitarget and multipathway mechanisms underlying the antidepressant effect of the nine CHFs. Decoctions, capsules, and pills all showed antidepressant effects, ranked in descending order of efficacy. According to traditional Chinese medicine theory, these CHFs have flexible compatibility and mainly act by soothing the liver and relieving depression. This review highlights the effective treatment choices and candidate compounds for patients, practitioners, and researchers in the field of traditional Chinese medicine. In summary, the current evidence supports the efficacy of CHFs in the treatment of depression, but additional large-scale randomized controlled clinical trials and sophisticated pharmacology studies should be performed.
No MeSH data available.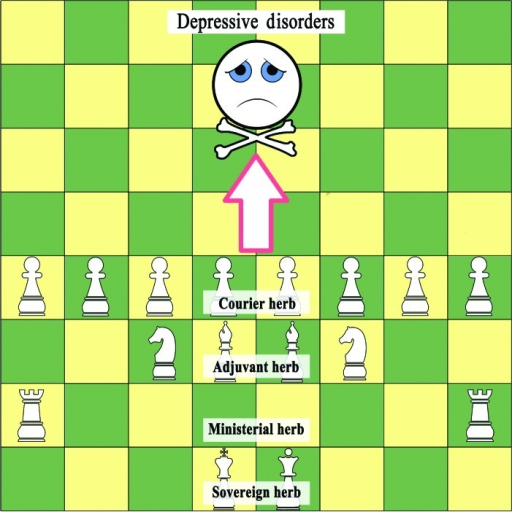 © Copyright Policy
License 1 - License 2


getmorefigures.php?uid=PMC5036551&req=5

Mentions: A characteristic of Chinese herbal medicines is their use as formulas rather than single herbs. Thousands of years ago, TCM practitioners generally used a single herb for disease treatment, but this was increased to two or more herbs, constituting a formula, to achieve additive or synergistic actions and reduce adverse effects.124,125 As clinical experience in Chinese herbal medicine accumulates, practitioners modify their CHFs based on the holistic philosophy and syndrome differentiation of TCM, while carefully following the rules of herb synergism and compatibility.126 Each single herb has its own flavor and channel tropism, whereas typical CHFs are mostly built on the "sovereign, minister, assistant, courier" rule.127 According to the seven methods ("emotions") in prescription compatibility, mutual promotion and mutual enhancement can synergistically enhance curative effects, and mutual restraint and mutual detoxification can alleviate toxicity and adverse effects.128,129 An increasing number of studies have demonstrated the advantages of formula completeness and herb compatibility, such as comprehensive disease intervention,130 favorable pharmacokinetics,131,132 alleviation of drastic effects, and fewer adverse effects than single herbs.133 Owing to the "sovereign, minister, assistant, courier" rule and the seven methods in prescription compatibility, CHFs are more commonly used than single herbs for disease treatment, and have become the predominant application of TCM.131,134 As illustrated in Figure 2, the relationship between CHFs and MDDs can be likened to playing chess. A single herb represents a chess piece, which cannot win the game single-handedly; however, when different herbs are combined to create a formula, their effectiveness in the treatment of depression becomes apparent.