Highly efficient in vitro biosynthesis of silver nanoparticles using Lysinibacillus sphaericus MR-1 and their characterization
ABSTRACT
---
Silver nanoparticles (AgNPs) have been widely used in diverse fields due to their superior properties. Currently the biosynthesis of AgNPs is in the limelight of modern nanotechnology because of its green properties. However, relatively low yield and inefficiency diminish the prospect of applying these biosynthesized AgNPs. In this work, a rapid mass AgNP biosynthesis method using the cell-free extract of a novel bacterial strain, Lysinibacillus sphaericus MR-1, which has been isolated from a chemical fertilizer plant, is reported. In addition, the optimum synthesis conditions of AgNPs were investigated. The optimum pH, temperature, dosage, and reaction time were 12, 70 °C, 20 mM AgNO3, and 75 min, respectively. Finally, AgNPs were characterized by optical absorption spectroscopy, zeta potential and size distribution analysis, x-ray diffraction, electron microscopy, and energy-dispersive x-ray spectroscopy. The results revealed that these biosynthesized AgNPs were bimolecular covered, stable, well-dispersed face centered cubic (fcc) spherical crystalline particles with diameters in the range 5–20 nm. The advantages of this approach are its simplicity, high efficiency, and eco-friendly and cost-effective features.
No MeSH data available.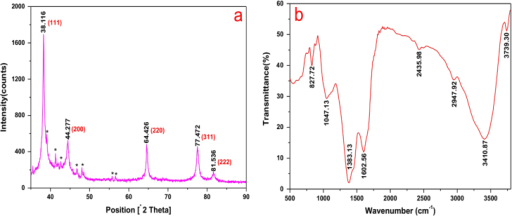 © Copyright Policy - open-access
License 1 - License 2


getmorefigures.php?uid=PMC5036493&req=5

Mentions: The typical XRD pattern of the biosynthesized AgNPs is shown in figure 5(a). Five diffraction peaks at 2θ values of 38.116°, 44.277°, 64.426°, 77.472°, and 81.536°, corresponding to the d-spacing values 2.359, 2.044, 1.445, 1.231, and 1.180 Å of the AgNPs, were observed. They were assigned to the (1 1 1), (2 0 0), (2 2 0), (3 1 1), and (2 2 2) crystalline planes of the face centered cubic (fcc) crystalline structure of metallic silver, respectively (JCPDS file no. 00-004-0783). The broad nature of the XRD peaks could be attributed to the nanocrystalline nature of the AgNPs. The small peaks appeared to have possibly originated from the AgCl or Ag2O crystals in the sample. The surface chemistry of the biosynthesized AgNPs was investigated using FTIR spectroscopy (figure 5(b)). The peaks seen at 3739.3, 3410.9, 2947.9, 2436.0, 1602.6, and 1383.1 cm−1 were assigned to the O–H, N–H, –O–CN, –CN, C=C, and C–O groups, respectively [24–26]. The two bands observed at 1047.1 and 827.7 cm−1 can be attributed to the –O– stretching vibrations of aromatic and aliphatic amines [27, 28]. These functional groups may have an effective role in the green synthesis of AgNPs. The overall result confirmed the presence of bimolecular in the sample. It is reported that proteins can bind to nanoparticles through either free amine groups or cysteine residues in the proteins [29]. Therefore, reduction and stabilization of the AgNPs by proteins in the cell-free extract may have occurred in this procedure.