Recent progress in advanced optical materials based on gadolinium aluminate garnet (Gd 3 Al 5 O 12 )
ABSTRACT
---
This review article summarizes the recent achievements in stabilization of the metastable lattice of gadolinium aluminate garnet (Gd3Al5O12, GAG) and the related developments of advanced optical materials, including down-conversion phosphors, up-conversion phosphors, transparent ceramics, and single crystals. Whenever possible, the materials are compared with their better known YAG and LuAG counterparts to demonstrate the merits of the GAG host. It is shown that novel emission features and significantly improved luminescence can be attained for a number of phosphor systems with the more covalent GAG lattice and the efficient energy transfer from Gd3+ to the activator. Ce3+ doped GAG-based single crystals and transparent ceramics are also shown to simultaneously possess the advantages of high theoretical density, fast scintillation decay, and high light yields, and hold great potential as scintillators for a wide range of applications. The unresolved issues are also pointed out.
No MeSH data available.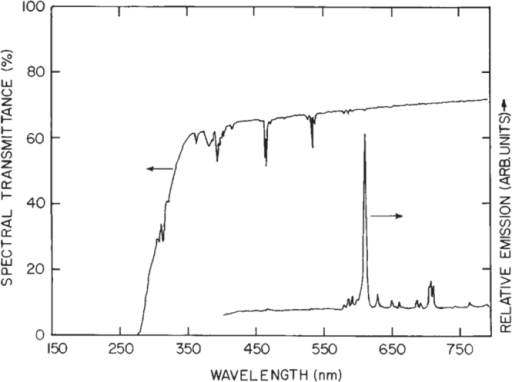 © Copyright Policy - open-access
License 1 - License 2


getmorefigures.php?uid=PMC5036492&req=5

Mentions: Aside from single crystals, transparent ceramics are under active development for scintillation applications, since the sintering technique generally has advantages in product size and fabrication cost. The (Y,Gd)2O3:Eu transparent ceramic (inline transmittance ∼73% at the 610 nm emission of Eu3+ or ∼90% of the theoretical value, figure 23), fabricated via pressureless sintering, pressureless sintering plus hot isostatic pressing, and vacuum hot pressing, has been the first commercialized polycrystalline scintillator used in medical x-ray detectors [41, 86]. The (Y0.67Gd0.30Eu0.03)2O3 composition (5.92 g cm−3) was reported to have a relative light output 2.5 times higher and ∼30% lower than those of CdWO3 and CsI:Tl single crystals, respectively [41]. Li et al [102] fabricated transparent (Y0.3Gd0.67Eu0.03)2O3 ceramic with a higher Gd content, an inline transmittance of ~68% at the 610 nm Eu3+ emission and a higher theoretical density of 6.87 g cm−3, by vacuum sintering at 1670 °C for 2 h of the oxide powders calcined from coprecipitated carbonate precursors. The main problem associated with Eu3+ emission is the long fluorescence decay, which is usually ∼1 ms [41, 86]. Yanagida et al [8, 103] made transparent YAG:Ce and (Gd,Y)AG:Ce ceramics for possible scintillation applications (the Gd content and optical transmittance not specified), and the dominant decay time was found to be ∼90 ns under γ-ray excitations. Light yield of the latter was reported to be 30% of the former, without specifying the reason, and the energy resolution was found to be ∼8% at 662 keV when coupled with an avalanche photodiode [103]. The stopping power of (Gd, Y)AG:Ce was reported to be five times as high as that of YAG:Ce [103]. Li et al [104] studied sintering of (Y1−xGdx)AG:Ce (x = 0.01, 0.5, 0.75, and 1; Ce content: 2 at%) transparent ceramics with commercially available nano-sized powders. It was shown that the GAG composition (x = 1.0) cracks owing to the stress (volume change) arising from thermal decomposition while all the other compositions can be densified to transparency by vacuum sintering at 1600–1700 °C for 5 h. The (Y1.48Gd1.5Ce0.02)AG ceramic, with an inline transmittance of ∼65% at 800 nm, exhibits Ce3+ emission at ∼570 nm under 340 nm UV excitation, which is red-shifted ∼40 nm relative to YAG:Ce (∼530 nm) owing to the high content of less electronegative Gd3+ (figure 24). Cherepy et al [105] studied radioluminescence properties of translucent (Tb3−xCex)AG ceramics (figure 25), and much higher light yields (80 000 photons/MeV) than LuAG:Ce (∼30 000 photons/MeV) were found under β-ray excitations. The decay, however, is slow owing to energy migration on the Tb3+ sites, and the principal decay time reaches <1 μs only at the high Ce3+ content of x = 0.12. By applying vacuum sintering plus hot isostatic pressing, Cherepy et al [105] also fabricated a series of GAG-based scintillation ceramics (Ce3+ content: 3 at%), including (Gd1.5Y1.5)3Al5O12 (GYAG), (Gd1.5Y1.5)3(Al5−xScx)O12 (GYSAG), and Gd3(Al3Sc2)O12 (GSAG), using Y3+/Sc3+ as dopant for lattice stabilization (figure 26). GYAG:Ce was reported to have a very high light yield of ∼100 000 photons/MeV under β-ray excitation, due to an efficient energy transfer from Gd3+, and have decay time in the 100–200 ns range. Transparency, however, was not achieved for this composition due to the presence of a small amount of GdAlO3 secondary phase. In contrast, GSAG and GYSAG only produced the moderate light yields of ∼20 000 photons/MeV, with the primary decay time <200 ns, but formed phase-pure garnet with excellent transparency for the former and acceptable transparency for the latter (x ≥ 0.12, transmittance data not shown). In general, the Ce3+ emission in Gd-containing scintillators simultaneously has fast primary decay (<200 ns) and high light yield, as compared from table 1 for the typical garnet compounds discussed in this work, showing substantial advantages of the GAG host lattice.